Delta Gardening
Get flash to fully experience Pearltrees
pics at last! this is my original of the system posting in the website above. honestly, they did a better job explaining it than i do so just check their site for more info on this one. The mint cloner. the roots were whiter than this but i messed up the nutrients and burned them. also an easy one to make. it requires an air pump, some air stones (i used a 2 ouput pump so i used 2 stones) and a rubermaid bucket. i used some small net pots and pea gravel but it really isnt required, you could use a piece of sponge around the stem to suport it.
When space is limited, sometimes a gardener must take to the roof. Around the world resourceful gardeners are turning what would otherwise be an overlooked and underutilized area into a place of beauty and serenity. Plus, you'd be amazed at the amount of fruit and vegetable you can coax out of these small spaces.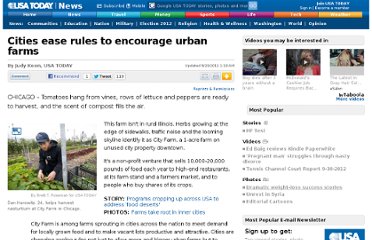 CHICAGO – Tomatoes hang from vines, rows of lettuce and peppers are ready to harvest, and the scent of compost fills the air. This farm isn't in rural Illinois. Herbs growing at the edge of sidewalks, traffic noise and the looming skyline identify it as City Farm, a 1-acre farm on unused city property downtown. It's a non-profit venture that sells 10,000-20,000 pounds of food each year to high-end restaurants, at its farm stand and a farmers market, and to people who buy shares of its crops. City Farm is among farms sprouting in cities across the nation to meet demand for locally grown food and to make vacant lots productive and attractive.
We've been talking about a greenhouse since we bought our house. We both would love one, but we still have a number of projects higher up the list than a greenhouse (the barn roof, bathroom remodel, refinishing wood floors, the intermittently leaking chimney, etc.). Still, the idea of extending the growing season is just too good to pass up, and our small raised bed pvc hoops have been so great we decided to try a pvc hoophouse (HH) made from conduit.
Indoor/outdoor automated container gardening. The Urban Farm 20 for: Stop digging, tilling, watering, and weeding.