Soziale Netzwerke in Zahlen
Fernsehsender in Deutschland | TRAXY.de | Die SocialMedia-Statistiken der Medienbranche | Sebastian Pertsch
2,5 Stunden privat am Arbeitsplatz: Jeder zweite bei Facebook
If Social Media Controlled the News in 2011 [Infographic]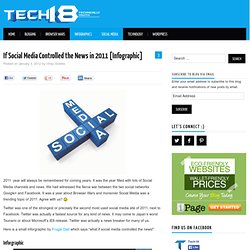 2011 year will always be remembered for coming years. It was the year filled with lots of Social Media channels and news. We had witnessed the fierce war between the two social networks Google+ and Facebook. It was a year about Browser Wars and moreover Social Media was a trending topic of 2011.
Statistiken »» Social Media Führerschein - Workshops und Coaching in Social Media Kommunikation, Monitoring, Marketing und Messung
Social Media Statistiken | Studien, Slides, Infografiken und Videos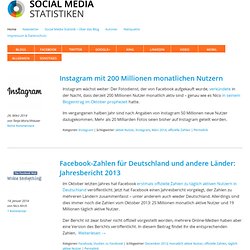 26. März 2014 von Tanja Morschhäuser Keine Kommentare Instagram wächst weiter: Der Fotodienst, der von Facebook aufgekauft wurde, verkündete in der Nacht, dass derzeit 200 Millionen Nutzer monatlich aktiv sind – genau wie es Nico in seinem Blogeintrag im Oktober prophezeit hatte. Im vergangenen halben Jahr sind nach Angaben von Instagram 50 Millionen neue Nutzer dazugekommen. Mehr als 20 Milliarden Fotos seien bisher auf Instagram geteilt worden. 14.
User-Generated-Content.jpg (962×3451)
Average-Day-on-Facebook.jpg (756×2682)
facebook_infografik_v3_sm.jpg (550×2629)