Musics
Music to use » Search. Looplabs. free online music mixing software. created by crashmedia.com. Audiotools. Audiotools – Faites votre propre musique en ligne AudioTools est un service en ligne dédié aux musiciens en herbe qui adorent assembler quelques loops pour en faire un morceau bien chiadé.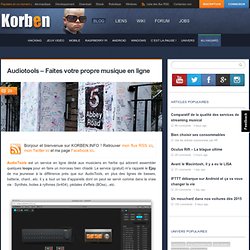 Le service (gratuit) m'a rappelé le Ejay de ma jeunesse à la différence près que sur AudioTools, en plus des lignes de basses, batterie, chant...etc. il y a tout un tas d'appareils dont on peut se servir comme dans la vraie vie : Synthés, boites à rythmes (br404), pédales d'effets (BOss)...etc. Une fois le morceau créé, il ne vous reste plus qu'à le sauver ou le laisser en partage sur le site pour que d'autres spécialistes de la MAO comme vous le commentent ou se mettent à l'améliorer.
Audiotools est entièrement en flash, donc dispo sur tous les browsers et l'interface est vraiment simple, idéal pour un n00b en MAO comme moi. Royalty Free Sound Effects (FX) Library for Download. TuneUp - Your Music Collection's New Best Friend.
Listen to Online Radio, Music and Talk Stations - StumbleUpon. PIANO. Audio Search. The following audio search tools will enable you to find specific audio files and audio content (though some will overlap and therefore be featured in both the audio search engines and video search engines sections).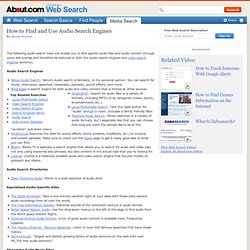 Audio Search Engines Yahoo Audio Search: Yahoo's Audio search is fantastic, in my personal opinion. You can search for music, interviews, speeches, newscasts, podcasts, sound effects, and more. Top 100 Best Acoustic Songs Ever -The Greatest of All Time | Acoustic Guitar Music | TopAcousticSongs.com. Here is a list of the best acoustic songs ever written.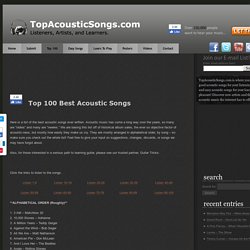 Acoustic music has come a long way over the years, so many are "oldies" and many are "newies." We are basing this list off of historical album sales, the ever so objective factor of acoustic-ness, but mostly how easily they make us cry. Matrix. Popular Rock Music Of The 90s – The Songs That Defined A Decade | The Popular Music of the 90s Music Revived – Rizzomusic.com.
Rizzo Music is back with a new article from the "Popular Music of the 90s" series.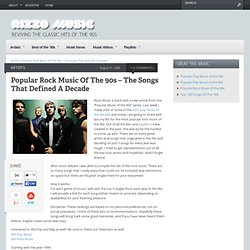 Last week I made a list of some of the best pop music of the decade and today I am going to share with you my list for the most popular rock music of the 90s. Out of all the lists and playlists I have created in the past, this was by far the hardest to come up with. There are so many great artists and songs that originated in the 90s and deciding on just 5 songs for every year was tough. I tried to get representation out of all the key rock artists and hopefully I didn't forget anyone. After much debate I was able to compile this list of 90s rock music. Running songs for 9:00 miles. Y100 Top 300 Songs of the 90's (Sep. 2000) Guitar. Music to use » Search. Writing Original And Interesting Chord Progressions. Part I | Lessons.
---