Linux
DistroWatch.com: Put the fun back into computing. Use Linux, BSD. Ubuntu. Last Update: Wednesday 16 April 2014 21:20 GMT Ubuntu is a complete desktop Linux operating system, freely available with both community and professional support.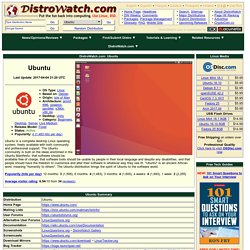 The Ubuntu community is built on the ideas enshrined in the Ubuntu Manifesto: that software should be available free of charge, that software tools should be usable by people in their local language and despite any disabilities, and that people should have the freedom to customise and alter their software in whatever way they see fit. "Ubuntu" is an ancient African word, meaning "humanity to others". OpenSUSE. Last Update: Tuesday 15 April 2014 19:20 GMT OS Type: LinuxBased on: IndependentOrigin: GermanyArchitecture: i586, x86_64Desktop: Blackbox, GNOME, IceWM, KDE, LXDE, Openbox, WMaker, XfceCategory: Desktop, Server, Live Medium, Raspberry PiStatus: ActivePopularity: 6 (1,389 hits per day) The openSUSE project is a community program sponsored by Novell.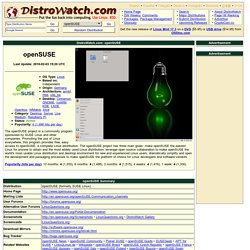 Promoting the use of Linux everywhere, this program provides free, easy access to openSUSE, a complete Linux distribution. The openSUSE project has three main goals: make openSUSE the easiest Linux for anyone to obtain and the most widely used Linux distribution; leverage open source collaboration to make openSUSE the world's most usable Linux distribution and desktop environment for new and experienced Linux users; dramatically simplify and open the development and packaging processes to make openSUSE the platform of choice for Linux developers and software vendors.
OpenSUSE
---