Goodwill
A Plea for Greater Giving - Donors. July 11, 2010 Diane Bondareff for The Eli and Edythe Broad Foundation Eli Broad pledged to give away 75 percent of his roughly $5.4-billion fortune.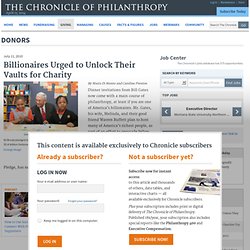 Enlarge Image By Maria Di Mento and Caroline Preston. The Giving Pledge. Patrice and Precious Motsepe "This selfless and compassionate characteristic is part of the age-old African culture of giving and caring for your neighbor and other members of your community.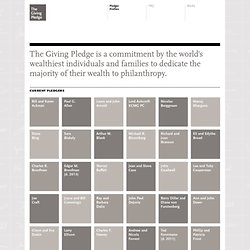 In South Africa it is embodied in the spirit and tradition of Ubuntu/Botho, in terms of which your well-being, happiness and success is dependent upon and influenced by the wellbeing, happiness and success of others... [We] recognise the huge responsibility and duty that the Motsepe family has to poor, unemployed, disabled, women, youth, workers and marginalised South Africans. We also have an ongoing obligation of nation building, uniting black and white South Africans and contributing towards making Africa and the world a better place." SOAP: Sustainable Organization Advocacy Partners :: Home.
Cause Marketing Forum Group News. About ? Skoll Foundation. Jeff Skoll created The Skoll Foundation in 1999 to pursue his vision of a sustainable world of peace and prosperity.
Led by CEO Sally Osberg since 2001, our mission is to drive large scale change by investing in, connecting and celebrating social entrepreneurs and the innovators who help them solve the world's most pressing problems. Social entrepreneurs are society's change agents, creators of innovations that disrupt the status quo and transform our world for the better. By identifying the people and programs already bringing positive change around the world, we empower them to extend their reach, deepen their impact and fundamentally improve society. We are now one of the leading foundations in the field of social entrepreneurship.
Over the past 14 years, we have awarded approximately $413 million, including investments in 108 remarkable social entrepreneurs and 87 organizations on five continents who are creating a brighter future for underserved communities. For Funds | Pioneer. GIIRS Pioneer Funds are leading private equity and venture capital funds that make impact investments in companies in both developed economies like the U.S. and Europe, as well as throughout the global emerging markets.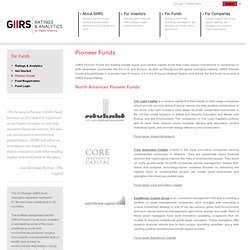 GIIRS Pioneer Funds will participate in a private beta of version 3.0 of the B Impact Ratings System and will be the first funds to receive a GIIRS Impact Rating. North American Pioneer Funds. Catchafire - Skills-Based Volunteer Matching. Catapult Design. KOMAZA. Omidyar Network | ON. The Hunting Art Prize - 2011. Social Designer — Welcome!
---