One step away
more onion - spice up your ecampaigning |
CS Odessa Announces ConceptDraw MindWave Integrates With SAP® StreamWork™
Home
The Dispute Finder project has now ended, along with the more general Confrontational Computing project that it was part of. Rob Ennals , the principal investigator for this project has now left Intel Research and taken up a new position at Google. The project is thus no longer being maintained by Intel Research. We have preserved the following materials about Dispute Finder, which may be of interest:
Dispute Finder Archive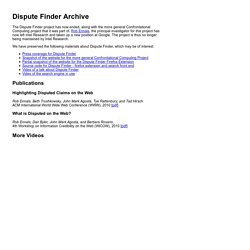 knet - Project Hosting on Google Code
kNet is the vision of a decentralised web of knowledge which consists of facts, opinions, people, ratings and trust. kNet has first been described by Heiko Haller in his short film in this blog . A scientific article has been published here and the nice printable PDF of that article can be found here . This open source project aims to create a first working kNet prototype.
Home | direktzu
Discover your community - DISQUS