Literatur
Liquid Democracy in der Piratenpartei
Robert's Rules of Order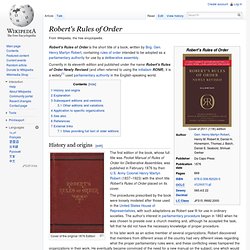 Robert's Rules of Order is the short title of a book, written by Brig. Gen. Henry Martyn Robert , containing rules of order intended to be adopted as a parliamentary authority for use by a deliberative assembly . Currently in its eleventh edition and published under the name Robert's Rules of Order Newly Revised (and often referred to using the initialism RONR ) it is the most widely used parliamentary authority in the United States , [ 1 ] according to the National Association of Parliamentarians , a professional association of approximately 4,000 members which provides education and accreditation certifications for parliamentarians. [ 2 ] [ edit ] History and origins
Robert's Rules of Order Online - Parliamentary Procedure and Parliamentarians
kostakis.pdf (application/pdf-Objekt)
Lincoln
Research into information overload has been extensive and cross–disciplinary, producing a multitude of suggested causes and posed solutions. I argue that many of the conclusions arrived at by existing research, while laudable in their inventiveness and/or practicality, miss the mark by viewing information overload as a problem that can be understood (or even solved) by purely rational means. Such a perspective lacks a critical understanding in human information usage: much in the same way that economic models dependent on rationality for their explanations or projections fail (often spectacularly, as recent history attests), models that rely too heavily upon the same rational behavior, and not heavily enough upon the interplay of actual social dynamics — power, reputation, norms, and others — in their attempts to explain, project, or address information overload prove bankrupt as well.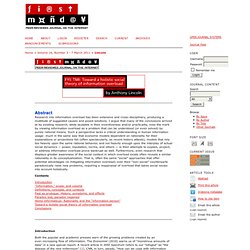 Promises and Limits of Web-deliberation (9780230619210): Raphaël Kies
The Heretic's Guide to Best Practices: The <i>Reality</i> of Managing Complex Problems in Organisations (9781462058532): Paul Culmsee, Kailash Awati
Online Deliberation: Design, Research, and Practice (Center for the Study of Language and Information - Lecture Notes) (9781575865546): Todd Davies, Seeta Pena Gangadharan
Online deliberation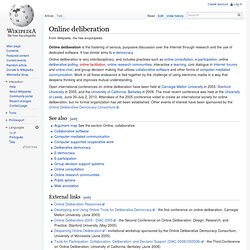 Online deliberation is a term associated with an emerging body of practice, research, and software dedicated to fostering serious, purposive discussion over the Internet. It overlaps with, but is not identical to, e-democracy . Online deliberation is very interdisciplinary, and includes practices such as online consultation , e-participation , online deliberative polling , online facilitation , online research communities , interactive e-learning , civic dialogue in Internet forums and online chat , and group decision making that utilizes collaborative software and other forms of computer-mediated communication . Work in all these endeavors is tied together by the challenge of using electronic media in a way that deepens thinking and improves mutual understanding.
Online Deliberation
Online Deliberation Feb 3.pdf (application/pdf-Objekt)
Proceedings_OD2010.pdf (application/pdf-Objekt)