Recipes
Chili, Lemon, and Basil Shrimp with Israeli Couscous Quick Dinner for Two. Here's a quick, easy weeknight dinner.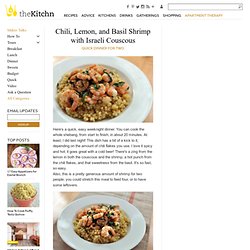 You can cook the whole shebang, from start to finish, in about 20 minutes. At least, I did last night! 10 Guiltless Gluten-Free Snacks - Greek Yogurt Parfait. Thai Grilled Steak Salad Recipes From The Kitchn. Traditional yam neua is usually more about the beef than the accompanying vegetables.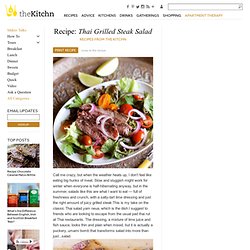 But I use the meat as more of a garnish, which is a great way to make the most of good-quality — and typically more expensive — grass-fed beef. Don't let lack out outdoor space keep you away from this recipe; I grill my steaks on a grill pan indoors. Chicken Enchilada Recipe - Recipe for Chicken Enchiladas. Chicken Enchiladas are one of my favorite ways of using up leftover chicken - or beef or pork for that matter.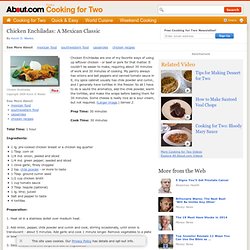 It couldn't be easier to make, requiring about 30 minutes of work and 30 minutes of cooking. My pantry always has onions and bell peppers and canned tomato sauce in it, my spice cabinet usually has chile powder and cumin, and I generally have tortillas in the freezer. So all I have to do is sauté the aromatics, add the chile powder, warm the tortillas, and make the wraps before baking them for 30 minutes. Some cheese is really nice as is sour cream, but not required. Creamy Avocado Pasta Recipe | Easy Pasta Recipe. Creamy Avocado Pasta We had a few ripe avocados leftover after making our Guacamole Grilled Cheese Sandwiches and I didn't want them to go to waste, so I made one of our favorite pasta dishes-Creamy Avocado Pasta.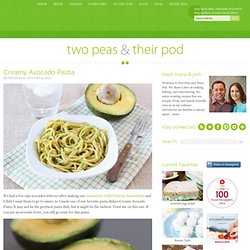 It may not be the prettiest pasta dish, but it might be the tastiest. Trust me on this one. If you are an avocado lover, you will go crazy for this pasta. You can have this delicious pasta dish on your table in 15 minutes.
---