Recipes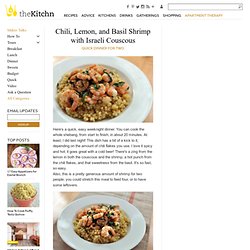 Chili, Lemon, and Basil Shrimp with Israeli Couscous Quick Dinner for Two
Here's a quick, easy weeknight dinner. You can cook the whole shebang, from start to finish, in about 20 minutes. At least, I did last night!
10 Guiltless Gluten-Free Snacks - Greek Yogurt Parfait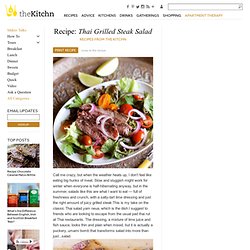 Recipe: Thai Grilled Steak Salad Recipes From The Kitchn
Call me crazy, but when the weather heats up, I don't feel like eating big hunks of meat. Slow and sluggish might work for winter when everyone is half-hibernating anyway, but in the summer, salads like this are what I want to eat — full of freshness and crunch, with a salty-tart lime dressing and just the right amount of juicy grilled steak.This is my take on the classic Thai salad yam neua, which is the dish I suggest to friends who are looking to escape from the usual pad thai rut at Thai restaurants. The dressing, a mixture of lime juice and fish sauce, looks thin and plain when mixed, but it is actually a puckery, umami bomb that transforms salad into more than just...salad.
As you've probably heard, this holiday season includes the once-in-a-lifetime convergence of Thanksgiving and the first day of Hanukkah, an occasion more popularly known as Thanksgivukkah. Cooks all over the country are embracing the opportunity to mix the traditional foods of two holidays on one table, and this week we are sharing Thanksgivukkah recipes and ideas from our favorite chefs and cookbook authors. Today kosher chef and cooking instructor Kim Kushner, author of The Modern Menu, shares her fresh and vibrant holiday menu, including a no-stress recipe for turkey braised with pumpkin, figs and honey.
Supper
Chicken Enchiladas are one of my favorite ways of using up leftover chicken - or beef or pork for that matter.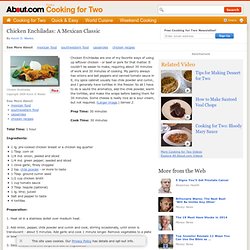 Chicken Enchilada Recipe - Recipe for Chicken Enchiladas
Creamy Avocado Pasta We had a few ripe avocados leftover after making our Guacamole Grilled Cheese Sandwiches and I didn't want them to go to waste, so I made one of our favorite pasta dishes-Creamy Avocado Pasta.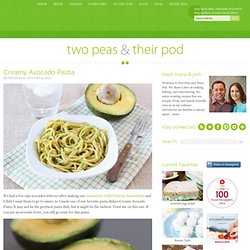 Creamy Avocado Pasta Recipe | Easy Pasta Recipe