Wzory
Ignorantblissknits.blogspot / Pinterest. Quince & Co. Untitled. Craft in Style: Gifts Galore. I've been in a knitting for gift giving frenzy, which has left me little time to think about my posts, but I decided to show you what I've been making.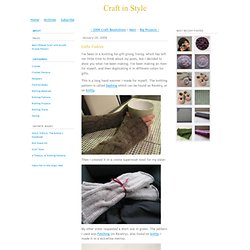 I've been making an item for myself, and then duplicating it in different colors for gifts. This is a long hand warmer I made for myself. The knitting pattern is called Dashing which can be found on Ravelry, or on knitty. Then I created it in a creme superwash wool for my sister. Category: Knitting » hey porkchop! Apr First off, thank you for all your kind words and emails on my previous post.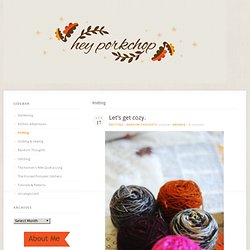 It was amazing how many friends reached out and said "YES. The joy of creating isn't there anymore" or "Let's all share MORE little things". I have a few more thoughts to share on this subject but I'll save them for another day k? Patterns | New Stitch A Day. International Yarns and Latch Hook Kits. Fallberry fingerless mitts: Knitty Winter 2011. Note: Throughout the pattern, instructions are arranged in order with small size first, followed by large size in parentheses, S(L).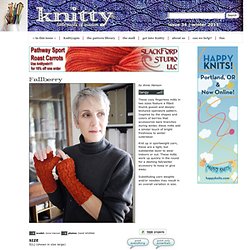 Where only one number occurs, it refers to both sizes. Cuff Loosely CO 42[49] sts. Divide sts over needles as you prefer, ensuring each needle has a multiple of 7 sts. FO: Lace Legwarmers. Yarn: Classic Elite Yarns Alpaca Six Needles: 3.0 mm / US 2.5 Overall: I love them!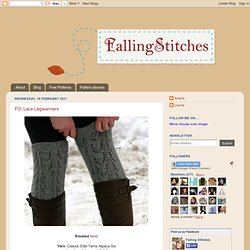 Daylight time in Winter is short. So short, that I waited at least 2 weeks before I could take pictures of my lovely Lace Legwarmers! So after school, I grab the camera and took advantage of the last sunshine rays... Narzuta na drutach. Simple Bauhaus Throw Knit a blanket inspired by the clean lines of this early modernist art movement.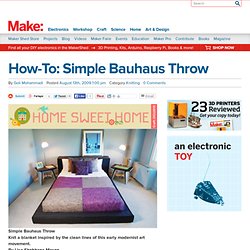 By Lisa Shobhana Mason On any given Saturday, you might find me strolling around a museum or gallery. I enjoy viewing artists' unique interpretations of universal themes and elements, and I'm drawn to the repetition of various designs throughout the ages. From the bold, outsider art vibe of the Gee's Bend quilts to the vivacious designs of the late 1960s, great artworks and movements influence and inspire many of my pieces. Cabled Scarf. For the newbie cabler or seasoned veteran, a fun quick (maybe holiday) free project.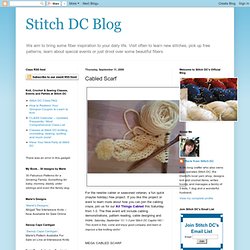 If you like this project or want to learn more about how you can join the cabling craze, join us for our All Things Cabled this Saturday from 1-3. The free event will include cabling demonstrations, pattern reading, cable designing and more. Browse patterns for knit and crochet. Kapcie królik. Thrummed Bunny Slippers in 3 Adult Sizes By Nikol Lohr These slippers are soft as a bunny, thanks to their thrums — unspun wool knit right in for a warm, cushy, fleecy lining.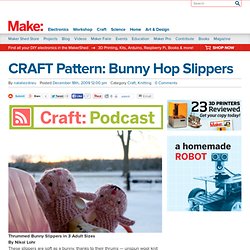 They're also quick as a bunny! Knit in bulky yarn, they have the same stitch count as your average worsted hat. Worked up quickly in economical ($5/100g ball) bulky wool, they're a recession-busting and adorable last-minute holiday gift. And you can always omit the "bunniness" if your subject isn't silly rabbit material. Free Patterns - Download Free Patterns.
---