Taiwan
China Policy Institute Blog » Home Page
China and the US F-16 upgrade sale to Taiwan
Rather than pull public opinion together, Xi Jinping's call for realizing the "China Dream" seems to have revealed the depth of cleavage among China's intellectuals. The newspaper Southern Weekend set off a drama when it responded by writing a New Year's editorial calling the China Dream the dream of constitutional government, only to have provincial propaganda authorities rewrite it beyond recognition before publication.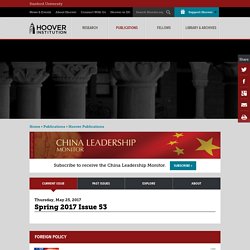 China Brief - The Jamestown Foundation
Efforts to Strengthen Sino-Mongolian Relations in Fall 2013 December 5, 2013 Sino-Mongolian relations improved during the fall, with a pair of official visits demonstrating progress on both economic and military ties. The first was Mongolian Prime Minister Norov Altankhuyag's trip to China on October...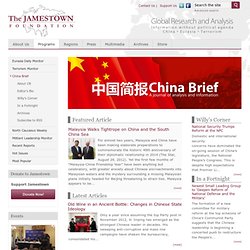 Journal of Current Chinese Affairs
財團法人海峽交流基金會
China Broadcasting Corporation World Wide Web
China Television Company - CTS
The View from Taiwan
The Far-Eastern Sweet Potato
Echo Taiwan
The Foreigner in Formosa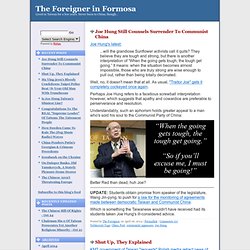 From News.com.au: One of the most popular questions [posed to British Prime Minister David Cameron on the Chinese Twitter copycat-site] was posted by a prominent Chinese think-tank, the China Center for International Economic Exchanges, which is headed by former vice-premier Zeng Peiyan and includes many top government officials and leading economists among its members.
Frozen Garlic
聯合新聞網:觸動未來 新識力
亞洲週刊
China Post Online - Taiwan, News, Breaking News, World News, and News from Taiwan │英文報紙│英文時事│英文新聞-英文中國郵報
Taiwan Direct