Gov't & Governance
City Of Somerville. CoS Calendar. Mass.Gov. MA General Law Search. MA, State Secretary. MA Open Data Initiative. The Massachusetts Open Data Initiative is working to make public data available and accessible to the citizens of the Commonwealth.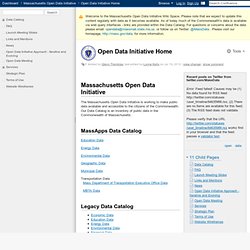 Our Data Catalog is an inventory of public data in the Commonwealth of Massachusetts . MassApps Data Catalog Education Data Energy Data Environmental Data. MassStats. Boston Chamber of Commerce. The White House. The Obameter. Promises we've rated recently Develop a comprehensive cyber security and response strategy The Promise: "Barack Obama and Joe Biden will ensure that his administration develops a Cyber Security Strategy that ensures that we have the ability to identify our attackers and a plan for how to respond that will be measured but effective.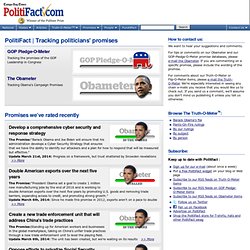 " Update March 21st, 2014: Progress on a framework, but trust shattered by Snowden revelations. Open Gov't Directive. This document is also available as pdf, txt, doc or view on Slideshare December 8, 2009 FROM: Peter R.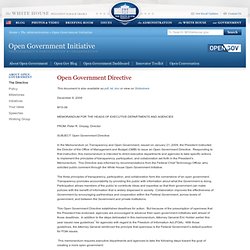 Orszag, Director SUBJECT: Open Government Directive In the Memorandum on Transparency and Open Government, issued on January 21, 2009, the President instructed the Director of the Office of Management and Budget (OMB) to issue an Open Government Directive. Data.gov. Data.Gov.UK. U.S. Senate. Clerk, House of Reps. Money in Politics. FactCheck.org. Muckety.
---