Travel
Viaggiare Sicuri - Home. Your Airline. Prenotare un volo on line. Airberlin is one of the leading airlines in Europe and flies to 147 destinations worldwide.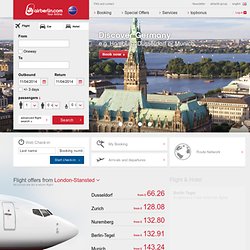 The second largest airline in Germany carried more than 31.5 million passengers in 2013. airberlin offers a global route network through its strategic partnership with Etihad Airways, which has a 29.21% share in airberlin, and through membership of the oneworld® airline alliance. The airline with the award-winning service operates codeshare flights worldwide with 16 airlines.
Cheap flights to Oslo, Copenhagen, Stockholm - Norwegian. Vueling - Vuelos baratos, ofertas de hoteles, alquiler de coches. Iceland Express: Cheap flights to Iceland every day with Iceland. GULLIVERS - BUSSE IN BERLIN, LINIENBUS, AUSBILDUNG, MIETBUS, VER. Waze: Way to go. Tripteaser.fr, le guide de voyage qui déshabille la planète. Backpacking travel guide for Thailand, Vietnam, Cambodia, Laos a.
---