Geekish History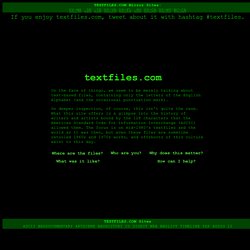 On the face of things, we seem to be merely talking about text-based files, containing only the letters of the English Alphabet (and the occasional punctuation mark). On deeper inspection, of course, this isn't quite the case. What this site offers is a glimpse into the history of writers and artists bound by the 128 characters that the American Standard Code for Information Interchange (ASCII) allowed them. The focus is on mid-1980's textfiles and the world as it was then, but even these files are sometime retooled 1960s and 1970s works, and offshoots of this culture exist to this day.
Sockamillion (sockington) on Twitter
GET LAMP: THE TEXT ADVENTURE DOCUMENTARY
long-lines.net
The Microwave Radio and Coaxial Cable Networks of the Bell System Telephone Men on a coaxial-cable project in New York state, ca. 1970 Contents Upcoming Events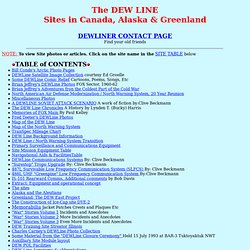 The DEW LINE
DEWLINER CONTACT PAGEFind your old friends NOTE: To view Site photos or articles. Click on the site name in the SITE TABLE below Map courtesy of the North American Air Defence Online Radar museum Transpec Mileage Chart Lateral Site to Site distances, Runway information (length - width - elevation), , Vertical distances to selected points, etc (courtesy John Vandenberg)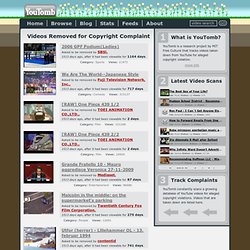 Category: Sports Views: 21473 Category: Comedy Views: 315137 Category: Film Views: 101268 Category: Film Views: 24954 Category: Entertainment Views: 86686 Category: People Views: 12691 Category: Sports Views: 12187 Category: Music Views: 1127199 Category: Comedy Views: 126531 Category: Sports Views: 87584 browse more takedowns YouTomb is currently monitoring 440036 videos, and has identified 9760 videos taken down for alleged copyright violation and 212711 videos taken down for other reasons.
Revolutionaries Season 3 Now on KQED! Revolutionaries, the 12-part interview series produced by the Computer History Museum, in association with KQED Silicon Valley, returns for a third season. The series airs on KQED Plus on Tuesdays at 7pm, starting January 21, with an in-depth look at the sailing technology used by the 34th America's Cup winners Oracle Team USA. The series features intriguing conversations with renowned Silicon Valley leaders and innovators with valuable insights into the process, risks, and rewards of technological innovation.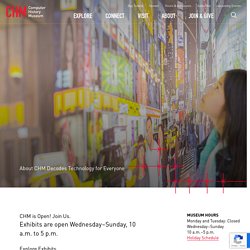 W1TP MUSEUM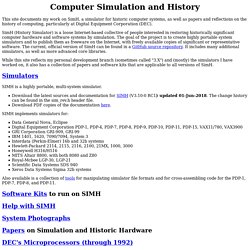 The Computer History Simulation Project is a loose Internet-based collective of people interested in restoring historically significant computer hardware and software systems by simulation. The goal of the project is to create highly portable system simulators and to publish them as freeware on the Internet, with freely available copies of significant or representative software. V3.9 (and bug fixes to it) is the last feature release of SimH that will be hosted at this web site. All future versions can be found in a public source repository. Simulators SIMH is a highly portable, multi-system simulator.
Computer History Simulation Project
Vintage Computer Festival
The Vintage Computer Festival is an international event that celebrates the history of computing. The mission of the Vintage Computer Festival is to promote the preservation of "obsolete" computers by offering folks a chance to experience the technologies, people and stories that embody the remarkable tale of the computer revolution. Through our event and the Vintage Computer Festival Archives—our publicly accessible archive of computer hardware, software, literature and ephemera—we promote interest in researching and documenting the history of the computer. Above all, we promote the fun of playing with old computers.