Geekish History
Textfiles.com. Sockamillion (sockington) GET LAMP: THE TEXT ADVENTURE DOCUMENTARY. Long-lines.net. The DEW LINE. DEWLINER CONTACT PAGEFind your old friends NOTE: To view Site photos or articles.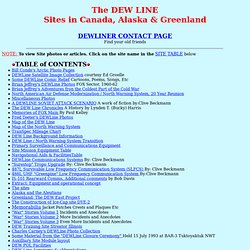 Click on the site name in the SITE TABLE below Map courtesy of the North American Air Defence Online Radar museum Transpec Mileage Chart Lateral Site to Site distances, Runway information (length - width - elevation), , Vertical distances to selected points, etc (courtesy John Vandenberg) Archive.org. YouTomb. Computer History Museum.
W1TP MUSEUM. Computer History Simulation Project. Vintage Computer Festival.
---