Video
How to Fix your Shaky Videos with YouTube Video Editor. This video tutorial describes how you may easily smooth-out and fix your shaky video footage captured with hand-held video cameras and cellphones with the help of YouTube's online video editor.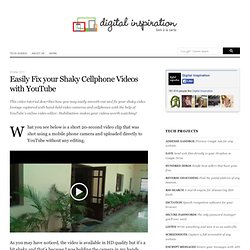 Stabilization makes your videos worth watching! What you see below is a short 20-second video clip that was shot using a mobile phone camera and uploaded directly to YouTube without any editing. As you may have noticed, the video is available in HD quality but it's a bit shaky and that's because I was holding the camera in my hands (instead of using a tripod) and was also walking during the entire recording. The video shakiness would have been even more had I used the zoom function of the camera. This problem is often referred as the shaky camera syndrome and affects almost all home videos that are shot with hand-held video cameras and smartphones. HighlightCam--video summarization.
Video content is exploding over the web.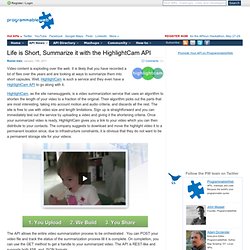 It is likely that you have recorded a lot of files over the years and are looking at ways to summarize them into short capsules. Well, HighlightCam is such a service and they even have a HighlightCam API to go along with it. HighlightCam, as the site namesuggests, is a video summarization service that uses an algorithm to shorten the length of your video to a fraction of the original. Their algorithm picks out the parts that are most interesting, taking into account motion and audio criteria, and discards all the rest.
YouTube Embed Code – Everything You Ever Wanted to Know. Call phones from Gmail. (Cross-posted from the Gmail Blog) Gmail voice and video chat makes it easy to stay in touch with friends and family using your computer's microphone and speakers.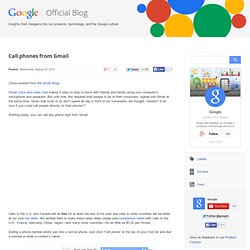 But until now, this required both people to be at their computers, signed into Gmail at the same time. Miro | Video Player | Free video and audio podcast player and to.
---