Design
Amazing showers. Mental_floss Blog » 10 Buildings Shaped Like What They Sell. Looking for a good way to advertise your business?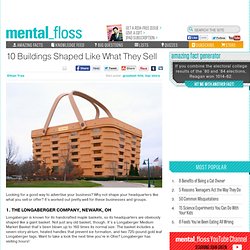 Why not shape your headquarters like what you sell or offer? It's worked out pretty well for these businesses and groups. 1. The Longaberger Company, Newark, OH. Space-Saving Double-Swing Doors Pivot on Hidden Hinges. Imagine using half as much space for a doorway yet being able to open it in both directions – and all on smooth invisible track with concealed inset hinges that doors seem to float on air.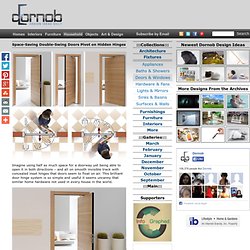 This brilliant door hinge system is so simple and useful it seems uncanny that similar home hardware not used in every house in the world. Push or pull and the Ergon door will spring to the side as it moves in or out, ending up flush and perpendicular with the adjacent door frame. From the offset paths it traces as seen from above it is impressive how much space is saved either way.
The inset hinge and steel slider system sit inline with the door and are thus invisible most of the time and minimalist when exposed. Wall Decals inspired by Mother Nature - WALLTAT.com. Wall Decals have been creating quite the buzz lately and more and more people are using them to decorate and transform everything from living rooms, kids rooms and nurseries, even bathrooms and glass.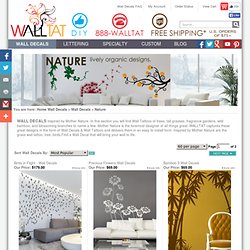 The designs are fun and installation is a breeze. However, as you are searching for your perfect design it is important to note that not all wall decals are created equal. Here are a few things to consider when purchasing wall decals online Size of Wall Decal: this seems like an obvious one but be sure to review the dimensions of your product with the picture shown. Video#p=ic0tqu9zmj#p=q5ra81lud8#p=lcg2gcetqg. Digital Sundial Shines Time on Walls with Bright Laser Lights. White walls can be a boring waste of space during the day, dull and dark by night .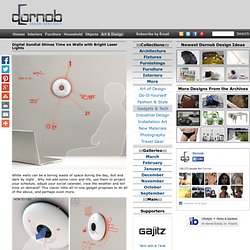 Why not add some color and life, use them to project your schedule, adjust your social calender, view the weather and tell time on demand? This clever little all-in-one gadget proposes to do all of the above, and perhaps even more. Yonggu Do, Dohyung Kim & Sewon Oh fashioned the device as a simple circular attachment – an unobtrusive, wall-mounted object that is activated by touch or via remote connection. Bluetooth, WIFI, and more – these days, all easy add-ons.
A music player (with laser-light display of what you are listening to) would not be difficult either. #p=763q4yjv4o#p=93djxnq8dx. Video#p=zrvv1iq7on. Top 10 Must Have Cool Home Accessories. Everybody knows the essentials of home decor such as beds, tables, and wall units for the TV, but there are some neat home decor accessories that are just plain fun!
Its not that you cannot live without them, they simply make your life easier, and certainly different from the neighbor's home accessories. The toughest security lock there is. You must solve the labyrinth in order to open the lock. This innovative lock is designed by famous Art Lebedev Studio. Arrange sewing seams along borders and corners to create humorous, artful designs nearly anywhere you can imagine. Unbelievably Cool – Swedish Subway System. Everyday Objects Stash Money, Secrets, Drugs, IDs. Yiting Cheng just finished up a master's degree in design, but she could already teach James Bond a thing or two about stashing valuables.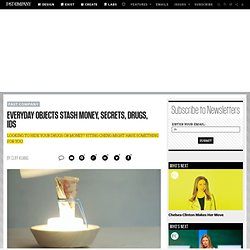 For her thesis project, Cheng designed a series of eight objects that ingeniously store secrets--from passwords to money to drugs to IDs. And you can see all of them in this nicely shot video (our favorite is the secrete drawer, hidden in the edge of a table, which is only accessible when attach a magnetic pull): According to Cheng: This project is about concealing valuables, secrets, bad habits and personal information in our workplaces. Co.Design - Fri, Feb 18 2011. Reactive Paint (by @baekdal) #design.
Shi Yuan has created a way to turn normally passive things into something with a life of its own.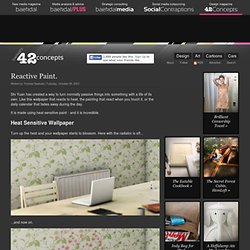 Like this wallpaper that reacts to heat, the painting that react when you touch it, or the daily calendar that fades away during the day. It is made using heat sensitive paint - and it is incredible. Heat Sensitive Wallpaper Turn up the heat and your wallpaper starts to blossom. Here with the radiator is off... Design. Architecture. Video#p=pisizc8hci.
---