Lennundus
LHV finantsportaal - Aurora. Shutterstock Viimasel kolmel aastal on lennukitootjatel olnud põhjust rõõmustamiseks.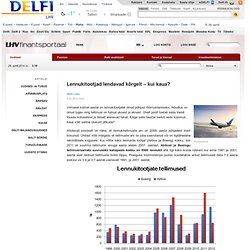 Nõudlus on olnud tugev ning tellimusi on tulnud uksest ja aknast. Ühelt poolt toetab seda trendi tõusev kütusehind ja teisalt arenevad turud. Kõige selle taustal kerkib esile küsimus, kaua võib selline olukord jätkuda? News, information, analysis and deals for the aviation finance industry | Airfinance Journal - Aurora. Manufacturer News - Aurora. Photo Search Results | Airliners.net - Aurora. Aviation Photos, Airline Fleets & more - Just Aviation - Planespotters.net Just Aviation - Aurora.
Mitsubishi
Embreaer. Bombardier. Comac. MC-21. Superjet. Flightradar24.com - Live Flight Tracker! Näitused. Widebody Aircraft Chronology - Part 8 - 2001-2005 - SIA started non-stop flights between Singapore and New York with the Airbus A340-500.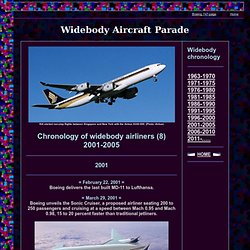 (Photo: Airbus) = February 22, 2001 = Boeing delivers the last built MD-11 to Lufthansa. = March 29, 2001 = Boeing unveils the Sonic Cruiser, a proposed airliner seating 200 to 250 passengers and cruising at a speed between Mach 0.95 and Mach 0.98, 15 to 20 percent faster than traditional jetliners. Impression of the Sonic Cruiser. Air Carriers.
Lennufirmad
Boeing. Airbus.
---