Boeing
Even as the DGCA is probing the deadly incident in which a panel of the Dreamliner fuselage fell off mid air while the aircraft was on its way to Bangalore from Delhi, Headlines Today has managed to get exclusive pictures of the concerned aircraft. These exclusive pictures provided by the investigating team shows how the entire panel of the Dreamliner had disappeared not just exposing the critical panel under the belly but also putting the lives of nearly 150 passengers at great risk. The AI management had played down the incident completely asserting that there was not even an emergency situation and that the panel was quickly replaced by another and that the Dreamliner was declared fit for another flight within hours.
Exclusive pictures of how Dreamliner lost its fuselage : Featured, News - India Today - Aurora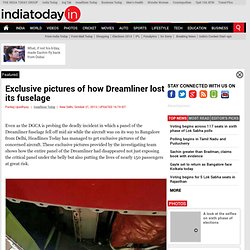 When Boeing's 787 Dreamliner completed its first test flight in December 2009, it was hailed as the future of commercial aviation. But the project was plagued with problems from the start and was 30 months behind schedule at the time of its maiden flight.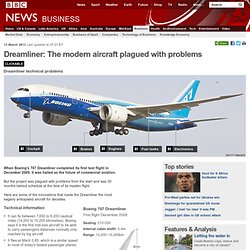 Dreamliner: The modern aircraft plagued with problems - Aurora
Mar 21, 2012 JAL Announces Delivery Date of its First 787 Dreamliner, Reveals Cabin Interior - Aurora
TOKYO March 21, 2012: Japan Airlines (JAL) announced today that it will take delivery of its first Boeing 787-8 on March 25, 2012, and the aircraft will be flown from Seattle, Everett to Tokyo, Narita by JAL pilots the following day.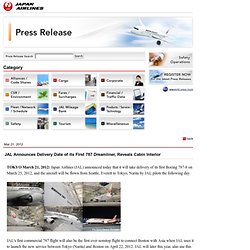 Puget Sound - Boeing Tests Flights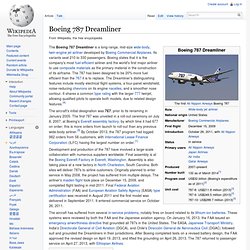 Boeing 787 Dreamliner
The Boeing 787 Dreamliner or simply Boeing 787 is a long-range, mid-size wide-body , twin-engine jet airliner developed by Boeing Commercial Airplanes .
Aircraft Museum - Boeing 787 Dreamliner
The 210-330-seat Boeing 787 is aimed at a potential replacement market for the Boeing 767 , Airbus A300-600 and A330-200 /-300, estimated at more than 3,500 medium-range airliners. Three versions of the Boeing 787 have been approved so far: The 210-250-passenger Boeing 787-8, with a range of 15,700km, the Boeing 787-9, carrying up to 290 passengers up to 16,300km and the 330-seat, 6,500km range Boeing 787-3. The Boeing 787 will be powered by 55,000lb – 70,000lb thrust engines from General Electric and Rolls-Royce .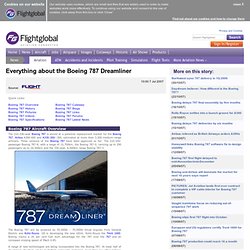 Boeing 787 Dreamliner Aircraft Profile | Flight Global
This article lists the orders and deliveries for the Boeing 787 Dreamliner .
List of Boeing 787 orders