Boeing
Exclusive pictures of how Dreamliner lost its fuselage : Featured, News - India Today - Aurora. Pankaj Upadhyay | Headlines Today | New Delhi, October 21, 2013 | UPDATED 16:19 IST Even as the DGCA is probing the deadly incident in which a panel of the Dreamliner fuselage fell off mid air while the aircraft was on its way to Bangalore from Delhi, Headlines Today has managed to get exclusive pictures of the concerned aircraft.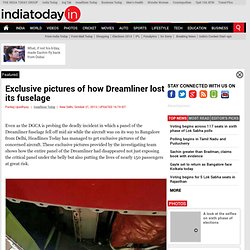 These exclusive pictures provided by the investigating team shows how the entire panel of the Dreamliner had disappeared not just exposing the critical panel under the belly but also putting the lives of nearly 150 passengers at great risk. Dreamliner: The modern aircraft plagued with problems - Aurora. When Boeing's 787 Dreamliner completed its first test flight in December 2009, it was hailed as the future of commercial aviation.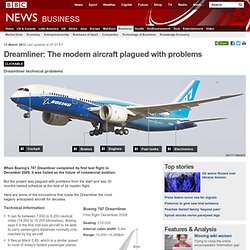 But the project was plagued with problems from the start and was 30 months behind schedule at the time of its maiden flight. Here are some of the innovations that made the Dreamliner the most eagerly anticipated aircraft for decades. Technical information It can fly between 7,650 to 8,200 nautical miles (14,200 to 15,200 kilometres). Boeing says it is the first mid-size aircraft to be able to carry passengers distances normally only reached by big aircraft It flies at Mach 0.85, which is a similar speed to most of today's fastest passenger planes Half of the plane is made from lightweight composite materials, including carbon fibre.
Mar 21, 2012 JAL Announces Delivery Date of its First 787 Dreamliner, Reveals Cabin Interior - Aurora. TOKYO March 21, 2012: Japan Airlines (JAL) announced today that it will take delivery of its first Boeing 787-8 on March 25, 2012, and the aircraft will be flown from Seattle, Everett to Tokyo, Narita by JAL pilots the following day.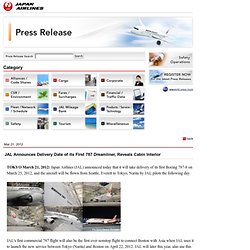 JAL's first commercial 787 flight will also be the first ever nonstop flight to connect Boston with Asia when JAL uses it to launch the new service between Tokyo (Narita) and Boston on April 22, 2012. JAL will later this year, also use this super-efficient aircraft to start yet another first nonstop service between a US city and Asia with the launch of direct flights between Tokyo (Narita) and San Diego. The 787 is scheduled to be deployed on routes between Tokyo and Beijing, Moscow, New Delhi and Singapore as soon as subsequent aircraft are delivered and all necessary preparations are completed.
The Boeing Company. Puget Sound - Boeing Tests Flights. Boeing 787 Dreamliner. The aircraft's initial designation was 7E7, prior to its renaming in January 2005.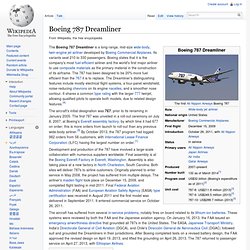 The first 787 was unveiled in a roll-out ceremony on July 8, 2007, at Boeing's Everett assembly factory, by which time it had 677 on order; this is more orders from launch to roll-out than any previous wide-body airliner.[5] By October 2013, the 787 program had logged 982 orders from 58 customers, with International Lease Finance Corporation (ILFC) having the largest number on order.[1] Development and production of the 787 have involved a large-scale collaboration with numerous suppliers worldwide.
Final assembly is at the Boeing Everett Factory in Everett, Washington. Aircraft Museum - Boeing 787 Dreamliner. Boeing 787 Dreamliner Aircraft Profile | Flight Global. The 210-330-seat Boeing 787 is aimed at a potential replacement market for the Boeing 767, Airbus A300-600 and A330-200/-300, estimated at more than 3,500 medium-range airliners.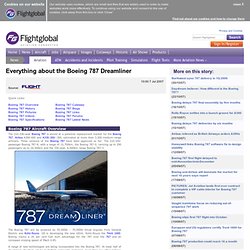 Three versions of the Boeing 787 have been approved so far: The 210-250-passenger Boeing 787-8, with a range of 15,700km, the Boeing 787-9, carrying up to 290 passengers up to 16,300km and the 330-seat, 6,500km range Boeing 787-3. The Boeing 787 will be powered by 55,000lb – 70,000lb thrust engines from General Electric and Rolls-Royce. List of Boeing 787 orders. This article lists the orders and deliveries for the Boeing 787 Dreamliner.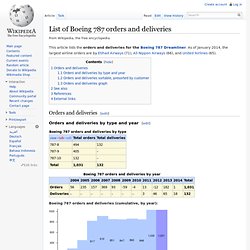 As of January 2014, the largest airline orders are by Etihad Airways (71), All Nippon Airways (66), and United Airlines (65). Orders and deliveries[edit] Orders and deliveries by type and year[edit] Boeing 787 orders and deliveries (cumulative, by year):
---