Miscellaneous
Swearing - YouSwear.com
Welcome to the world of Free Spirit Spheres, set among the tall trees of the west coast rainforest of Vancouver Island, Canada. We invite you to experience a tree house for adults... 16 years and over. (liability considerations) We are open 12 months of the year; each season providing something unique. Built on vision and engineering these handcrafted spheres are suspended like pendants from a web of rope. They occupy a truly unique place in the world while providing a habitat for the un-tamed spirit that exists in us all. Spheres, Eve, Eryn and Melody, are available for overnight rental.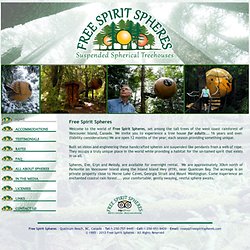 Free Spirit Spheres
Programming, Motherfucker - StumbleUpon
We are a community of motherfucking programmers who have been humiliated by software development methodologies for years. We are tired of XP, Scrum, Kanban, Waterfall, Software Craftsmanship (aka XP-Lite) and anything else getting in the way of...Programming, Motherfucker. We are tired of being told we're autistic idiots who need to be manipulated to work in a Forced Pair Programming chain gang without any time to be creative because none of the 10 managers on the project can do...