Nerf this
Wild and Free!
What's Magic Like?
Awesome Tolerance
Hookingly Dangerous
Excitedly Intimidated
Nakedly Raging
Logically Worried
The Guessing Game!
Sore Loser
Normalcy 101
Scandal!
Happy Turkey Day!
Internal Problems
The Hermit
Andrew Bleeds Art Once More!
The Ragestache!
That Was Personal
Errands
Puzzling
Sniffles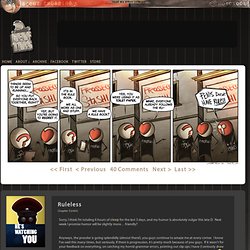 Adventurously Awkward! - Ruleless
Sorry, I think I'm totaling 6 hours of sleep for the last 3 days, and my humor is absolutely vulgar this late D: Next week I promise humor will be slightly more… friendly? Anyways, the preoder is going splendidly (almost there!), you guys continue to amaze me at every corner. I know I've said this many times, but seriously, if there is progression, it's pretty much because of you guys. If it wasn't for your feedback on everything, on catching my horrid grammar errors, pointing out slip ups I have (I seriously draw Nergil with 6 fingers once), I don't think I, nor this comic would be where it is today. So, once again, thank you
Adventurously Awkward! - Slightly On Edge
Adventurously Awkward! - Relentlessly
Well, this strip isn't entirely true… my hat isn't red. I actually do have a chicken named Hussy. All in all, I really want to thank everyone for their support. Seriously, when people ask what I like about drawing comics, one of the things I always say is that I'm really lucky to have a bunch of truly awesome people who read my comics. So, thank you.
Adventurously Awkward! - A Word of Thanks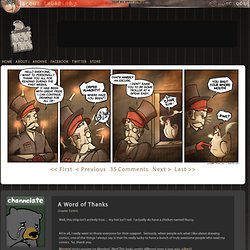 My parents bought baby chicks for their farm… twenty five or them.
Adventurously Awkward! - Dealing with Peeps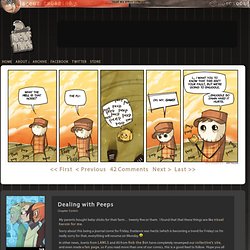 The new tee is up for pre-order, which you can find here ! I do apologize because I wanted to get a comic up for tonight, but after talking to a lot of vendors today about new products, books for getting Scout Crossing printed, plushies, etc, the time snuck up on me much faster than I thought, so please forgive me D: There were also some kinks in the store which were worked out today, so thank you, and I'll see everyone Monday!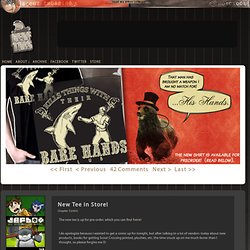 Adventurously Awkward! - New Tee in Store!
Adventurously Awkward! - Oh Denial…
Adventurously Awkward! - 07/21/2009
Adventurously Awkward! - What Friends Do
Adventurously Awkward! - 03 19 10 Nerf This