History
Diary of Carl Kaas - May 10, 1940 - A Research Guide for Students. Diary written by Carl Kaas originally in Dutch, edited by I Leefor English structure, grammar or spelling only as needed.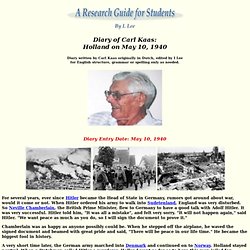 Diary Entry Date: May 10, 1940 For several years, ever since Hitler became the Head of State in Germany, rumors got around about war, would it come or not. When Hitler ordered his army to walk into Sudetenland, England was very disturbed. So Neville Chamberlain, the British Prime Minister, flew to Germany to have a good talk with Adolf Hitler. CBC Archives. Countdown to Victory: The Last...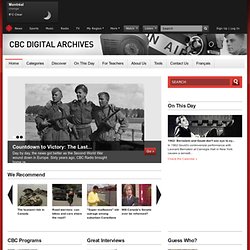 Day by day, the news got better as the Second World War wound down in Europe. Sixty years ago, CBC Radio brought home re... Go Glenn Gould: Variations on an ... Great Wall of China, History, Gallery of Pictures, Travel Guide, News,... History of the world | FAN-TAS-TIC! Magazine - StumbleUpon. Digital History. King Arthur & The Knights of the Round Table | History, Legend and... Photo of the Week. History Resources.
The 1920s - Roaring Twenties - The Nineteen Twenties in History. Wanderlust: GOOD traces the most famous trips in history - StumbleUpon. Maps of War ::: Visual History of War, Religion, and Government - StumbleUpon. Child Labor in America: Investigative Photos of Lewis Hine.
About these Photos Faces of Lost Youth Left - Furman Owens, 12 years old.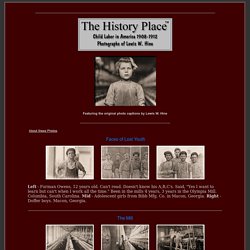 Can't read.
---