Programming
Programming Texts/Tutorials
NOTE: If you would like some Python development done, my company, Stochastic Technologies, is available for consulting. This tutorial is available as a short ebook. The e-book features extra content from follow-up posts on various Python best practices, all in a convenient, self-contained format. All future updates are free for people who purchase it.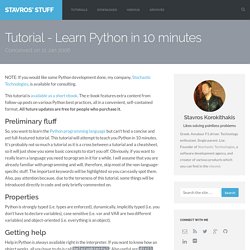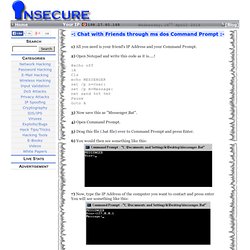 -: Chat with Friends through ms dos Command Prompt :- 1) All you need is your friend's IP Address and your Command Prompt.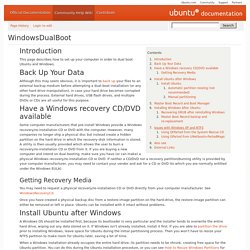 This page describes how to set up your computer in order to dual boot Ubuntu and Windows. Although this may seem obvious, it is important to back up your files to an external backup medium before attempting a dual-boot installation (or any other hard drive manipulation), in case your hard drive becomes corrupted during the process. External hard drives, USB flash drives, and multiple DVDs or CDs are all useful for this purpose.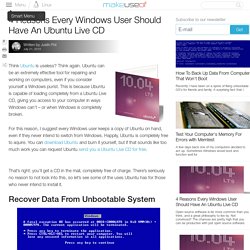 4 Reasons Every Windows User Should Have An Ubuntu Live CD
For this reason, I suggest every Windows user keeps a copy of Ubuntu on hand, even if they never intend to switch from Windows.
If you've ever asked for help with your Windows computer that won't boot anymore, you've probably been told to "Backup all your data and then reinstall"… but if you can't boot, how can you get to your data?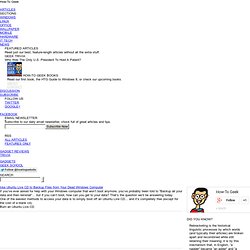 Use Ubuntu Live CD to Backup Files from Your Dead Windows Computer
Python Introduction - Google's Python Class - Google Code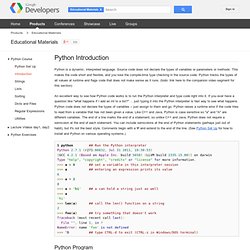 Python is a dynamic, interpreted language. Source code does not declare the types of variables or parameters or methods. This makes the code short and flexible, and you lose the compile-time type checking in the source code.
Linux is NOT Windows
In the following article, I refer to the GNU/Linux OS and various Free & Open-Source Software (FOSS) projects under the catch-all name of "Linux".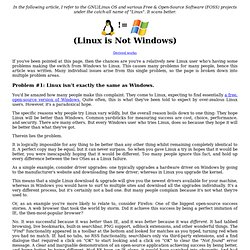 In the following examples, input and output are distinguished by the presence or absence of prompts (>>> and ...): to repeat the example, you must type everything after the prompt, when the prompt appears; lines that do not begin with a prompt are output from the interpreter. Note that a secondary prompt on a line by itself in an example means you must type a blank line; this is used to end a multi-line command.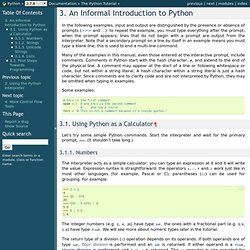 3. An Informal Introduction to Python — Python v2.7.1 documentation
Why do you need to learn the command line anyway?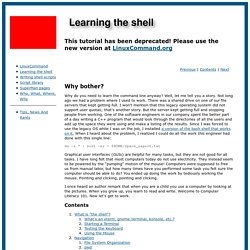 Why Python?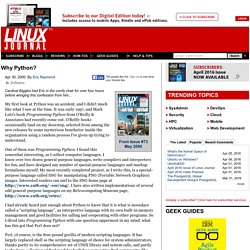 My first look at Python was an accident, and I didn't much like what I saw at the time. It was early 1997, and Mark Lutz's book Programming Python from O'Reilly & Associates had recently come out.
You can browse my newest book here.
Copyright © 2001 Eric S. Raymond