Frameworks
BluCSS. The 1140px CSS Grid System · Fluid down to mobile. 11:57AM — Tuesday, April 9, 2013.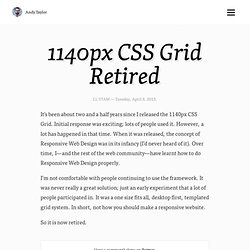 It's been about two and a half years since I released the 1140px CSS Grid. Initial response was exciting; lots of people used it. However, a lot has happened in that time. When it was released, the concept of Responsive Web Design was in its infancy (I'd never heard of it). HTML5 Reset :: A simple set of templates for any project.
Initializr - Start your HTML5 project in 15 seconds! HTML5 Boilerplate - A rock-solid default template for HTML5 awesome. Blueprint: A CSS Framework | Spend your time innovating, not replicating.
---