Low_Carb
Primal Wisdom. The Heart Scan Blog. Pay Now Live Later. PaNu - PāNu Blog. Hyperlipid. Health and Nutrition by Dr. Michael R. Eades, M.D. One of the first patients I saw as a medical student was a nice lady, who presented to the university hospital outpatient clinic with colicky, cramping abdominal pain.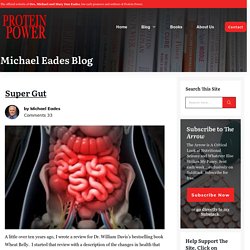 She described the pain as coming on after a meal, and said that it doubled her over with pain. The pain came and went, but had gotten worse over the past few days. I took a long history from her and performed a physical exam, which included examining her abdomen. When I pushed on her right upper quadrant, she all but yelped and grabbed at my wrist. At that point in my medical education, I knew just enough to be dangerous, so I excused myself, left the exam room and presented this lady's case to the medical resident running the clinic that day. Livable Low Carb. Whole Health Source.
Nourishing Days — notes and recipes for a nourishing home. Free The Animal.
Low_carb
Fat Head - Blog site for the comedy-documentary Fat Head. The Paleo Diet.
---