FUTURE HUB
Real Time Bidding
In order to harness all methods available to improve our performance optimization process, Adgorithms has built a team constructed of specialists from the fields of Artificial intelligence, Big Data analysis, Applied math and Behavioral sciences. This team was brought together with the sole purpose of developing and implementing advanced online predicting systems.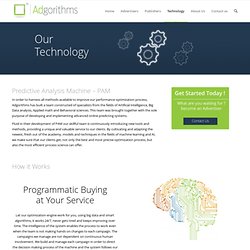 Tapad
Ad.ly - Celebrity Endorsements in Social Media
PubMatic
Online Video Advertising | Video Ad Network - SpotXchange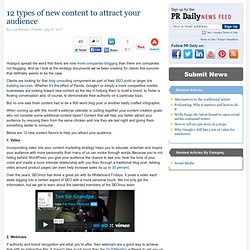 Hubspot spread the word that there are now more companies blogging than there are companies not blogging. And as I look at the strategy documents we've been creating for clients this summer that definitely seems to be the case. Clients are looking for that blog consulting component as part of their SEO audit or larger link building services. Whether it's the effect of Panda, Google+ or simply a more competitive market, businesses are looking toward new content as the key in helping them to build a brand, to foster a flowing conversation and, of course, to demonstrate their authority on a particular topic. But no one said fresh content had to be a 900-word blog post or another badly crafted infographic.
12 types of new content to attract your audience