FUTURE HUB
Real Time Bidding
In order to harness all methods available to improve our performance optimization process, Adgorithms has built a team constructed of specialists from the fields of Artificial intelligence, Big Data analysis, Applied math and Behavioral sciences. This team was brought together with the sole purpose of developing and implementing advanced online predicting systems. Fluid in their development of PAM our skillful team is continuously introducing new tools and methods, providing a unique and valuable service to our clients. By cultivating and adapting the newest, fresh out of the academy, models and techniques in the fields of machine learning and AI, we make sure that our clients get, not only the best and most precise optimization process, but also the most efficient process science can offer.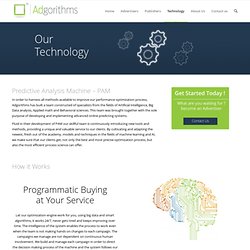 Unify Life Across Devices Life is continuous. Your experiences across screens should be, too.
Tapad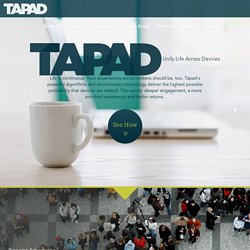 Advisors John Durham, CEO/Managing Partner, Catalyst S+F--a strategy firm for digital start-ups and early funding companies. A true industry veteran, most recently Durham served as the executive vice president, business strategy at Carat Fusion, for Carat's offices across the country including New York, Boston, San Francisco, Chicago and Los Angeles. Ryan Schinman, Founder of Platinum Rye Entertainment, now "the world's largest broker of celebrity talent, models, recording artists, sports figures and other celebrities for ad campaigns and P.R. events," according to Forbes Magazine. Jeremy Shoemaker, founder of ShoeMoney Media and co-founder of the AuctionAds service. He is a frequent speaker at search engine marketing and affiliate conferences.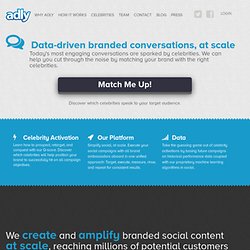 PubMatic
SpotX CEO Mike Shehan and COO/CFO Steve Swoboda discuss the reasons why they believe SpotXchange was named a 2013 Top Company by ColoradoBiz. Watch the Video Not only are we the most trusted video advertising platform in the industry, we are also the largest global platform for video ad inventory. Headquartered north of Denver, SpotXchange has offices in New York, San Francisco, London and Sydney. Meet our global team members and learn about our offerings around the world! Meet our Global Team
Online Video Advertising | Video Ad Network - SpotXchange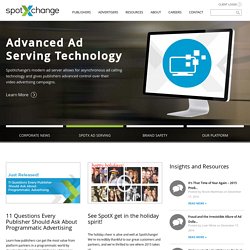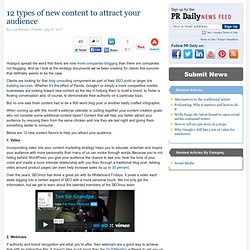 Hubspot spread the word that there are now more companies blogging than there are companies not blogging. And as I look at the strategy documents we've been creating for clients this summer that definitely seems to be the case. Clients are looking for that blog consulting component as part of their SEO audit or larger link building services. Whether it's the effect of Panda, Google+ or simply a more competitive market, businesses are looking toward new content as the key in helping them to build a brand, to foster a flowing conversation and, of course, to demonstrate their authority on a particular topic. But no one said fresh content had to be a 900-word blog post or another badly crafted infographic.
12 types of new content to attract your audience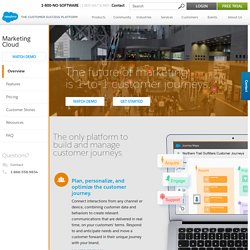 Social Content Management Organize your social stream with schedules, communicate rights allocation with teams, and gain insight into the performance of your content with comprehensive analytics. Stream Management Create, schedule and control where your content is published; leverage templates to ensure content is on message and on time. Drive Brand Engagement Create highly customizable and flexible social canvasses using our 60+ social apps enabling you to easily create interactive polls, quizzes and much more.