Billletique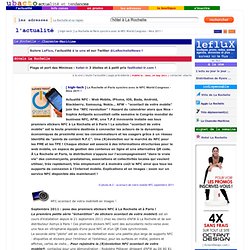 high-tech : La Rochelle et Paris synchro avec le NFC World Congress - Nice 2011 ! - l'actualité Ubacto La Rochelle
Actualité NFC : Web Mobile, iPhone, iOS, Bada, Androïd, Blackberry, Samsung, Nokia... AFW - "ocontact de votre mobile" join the "NFC revolution" ! Hasard du calendrier alors que Nice - Sophia Antipolis accueillait cette semaine le Congrès mondial du business NFC, AFW, une T.P.E innovante installe ses tous premiers stickers NFC à La Rochelle et à Paris ! La solution "ocontact de votre mobile" est la toute première destinée à connecter les acteurs de la dynamique économiques de proximité avec les consommateurs et les usagers grâce à un réseau identifié de "points de contact N.F.C". Une (R)évolution sur le marché du NFC pour les PME et les TPE ! Chaque sticker est associé à des informations structurées pour le web mobile, un espace de gestion des contenus en ligne et une alternative QR code.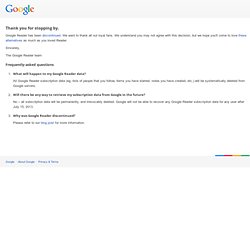 Google Reader has been discontinued. We want to thank all our loyal fans. We understand you may not agree with this decision, but we hope you'll come to love these alternatives as much as you loved Reader. Sincerely,
Reader (461)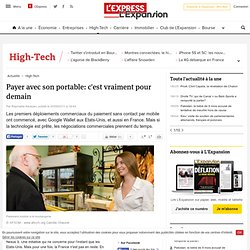 Google a officiellement lancé sa solution de paiement électronique via le téléphone portable, Google Wallet, sur son smartphone Nexus S. Une initiative qui ne concerne pour l'instant que les Etats-Unis. Mais pour une fois, la France n'est pas en reste.
Payer avec son portable: c'est vraiment pour demain
download.finthru.com/livres-blancs/Impact-du-Mobile-sur-le-paiement-de-detail.pdf
SMSC - NFC - Forum des services mobiles sans contact - site officiel du SMSC et NFC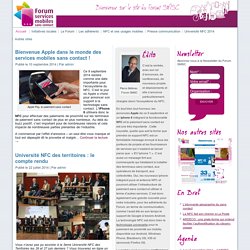 Dans quelques jours, vous serez nombreux à trouver au pied du sapin, une tablette, un appareil photo, une enceinte, ou une smartwatch voire une imprimante, appareils électroniques dotés d'une fonction NFC qui vous éviteront de laborieux paramétrages et vous permettront de les faire communiquer entre eux. Le sapin de Noël lui-même, changera peut-être de couleur, piloté à l'aide d'un mobile NFC. Des centaines de milliers d'enfants remercieront leurs parents pour la figurine qui mémorise les paramètres de jeu grâce à NFC ou un clavier NFC conçu pour interagir avec une console de jeu Android. Enfin, plusieurs dizaines de millions de personnes recevront un smartphone… Continuer la lecture 3 questions à Laetitia Gazel Anthoine, fondatrice et PDG de Connecthings, société membre du Forum SMSC Quelle est la promesse de la technologie NFC ?
ERGOSUM_Vers_une_experience_simple_et_fluide_des_services_mobiles_sans_contact_sur_le_point_de_vente.pdf (Objet application/pdf)
Near Field Communications Association Gets Very Popular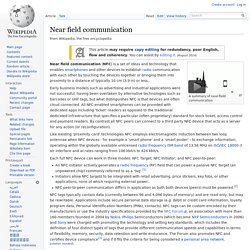 An NFC enabled parking meter label used by the city of San Francisco for payment and phone reminders of time remaining. Developed by Cellotape/Tap4Mor. Near field communication (NFC) is a set of standards for smartphones and similar devices to establish radio communication with each other by touching them together or bringing them into proximity, usually no more than a few inches. Present and anticipated applications include contactless transactions, data exchange, and simplified setup of more complex communications such as Wi-Fi.[1] Communication is also possible between an NFC device and an unpowered NFC chip, called a "tag".[2]
Jumio
List of NFC phones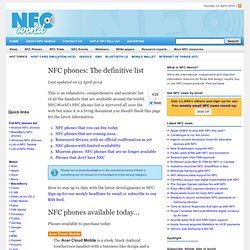 This is an exhaustive, comprehensive and accurate list of all the handsets that are available around the world. NFC World's NFC phones list is mirrored all over the web but since it is a living document you should check this page for the latest information. NFC phones available today…
Association Française du Sans Contact Mobile