Handy stuff for stuff
The World's Best Photos - Flickr Hive Mind - June 11, 2012. Les photos et vidéos favorites de Xiangk | Flickr. Yoann Lemoine. Emerson Fry New York. WhereCoolThingsHappen. Visual Art. "There are no machines in the world that are so varied, so beautifully sculpted and yet equally so disturbing as firearms." – Gale Hart (Artist, USA) Gale Hart is a talented, self-taught artist based out of Sacramento, California who created this incredible art series, entitled "Unconcealed", based on an experience with firearms.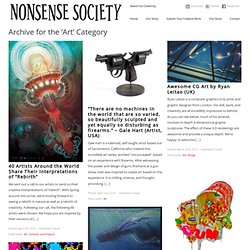 After witnessing the power and design of guns firsthand at a gun show, Hart was inspired to create art based on the experience. It is chilling, intense, and thought-provoking. […] Beautiful Wildlife Paintings by Paul Pettersson (Australia) Australian painter Paul Pettersson masterfully wields the brush to create these vibrant paintings of wildlife. His ever-growing portfolio is filled with beautiful images of seascapes, landscapes, and creatures that live both underwater and on land. Yvan Rodic. Photos on Boxnutt.com. Design You Trust – Design and Beyond!
Rawtee | tee shirt reviews. This isn't happiness™ Peteski. Rrrewind: popular links archive. 500px / Home. Photos. FFFFOUND! Pineapples & Ducks ᵔᴥ. Art Of ℓiving. I Heart Inspiration | Inspirational Quotes, Infographics and more. BOOOOOOOM! - CREATE * INSPIRE * COMMUNITY * ART * DESIGN * MUSIC * FILM * PHOTO * PROJECTS. My Modern Metropolis. Thrilld. Social bookmarking for pictures on VisualizeUs. Buamai. Les photos et vidéos favorites de katie ruthh | Flickr.
---