Project Management Work Breakdown Structures
Work Breakdown Structure Foundation for Assignments. Work Breakdown Structure – The Foundation for On-time Projects The size of a work breakdown structure WBS does not measure how tight the PM's control will be.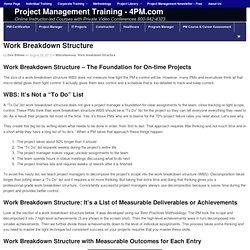 However, many PMs and executives think all that micro-detail gives them tight control. It actually gives them less control and a schedule that is too detailed to track and keep current. WBS: It's Not a "To Do" List A "To Do" list work breakdown structure does not give a project manager a foundation for clear assignments to the team, close tracking or tight scope control. Work Breakdown Structure. Operations > Work Breakdown Structure Work Breakdown Structure A complex project is made managable by first breaking it down into individual components in a hierarchical structure, known as the work breakdown structure, or the WBS.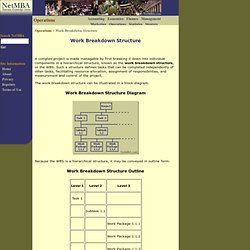 Such a structure defines tasks that can be completed independently of other tasks, facilitating resource allocation, assignment of responsibilities, and measurement and control of the project. Work Breakdown Structure | Work Breakdown Structure information and WBS samples. Work Breakdown Structure. Work Breakdown Structure (WBS) Click Here to View Video on YouTube: 5-Steps to Project Success Download this Free Video (Same as above) (9MB file) RIGHT Click & Save Target As: "5-Steps to Project Success - Seriously_v1.1" You have permission to freely copy and distribute this video.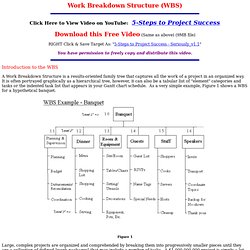 Introduction to the WBS. Work Breakdown Structure (WBS) Purpose, Process and Pitfalls. In this article we are going to look at what many project managers and project management professionals refer to as the "foundation" of the project, or at least the foundation of project planning.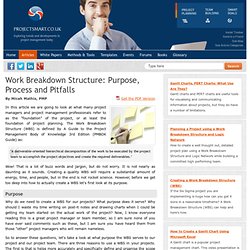 The Work Breakdown Structure (WBS) is defined by A Guide to the Project Management Body of Knowledge 3rd Edition (PMBOK Guide) as: "A deliverable-oriented hierarchical decomposition of the work to be executed by the project team to accomplish the project objectives and create the required deliverables. " Wow! Work breakdown structure.
Example of a product oriented work breakdown structure of an aircraft system.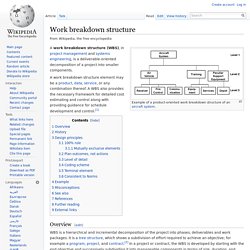 A work breakdown structure (WBS), in project management and systems engineering, is a deliverable oriented decomposition of a project into smaller components. Overview[edit]
---