Chef
Chocolate Heart - Le Cordon Bleu Recipe
Enjoy our recipes!
Nutella Chip Cookies with Homemade Nutella Chips
Neiman Marcus Chocolate Chip Mystery – REVEALED!Good Taste with Tanji | Good Taste with Tanji
Feast your eyes on the legendary Neiman Marcus chocolate chip cookie . It's a tried and true recipe that's been around since even I was a kid…or has it? Now the secret is out: For years a fraudulent recipe has been circulating via chain letters and word of mouth – one that claims to find its origin in Neiman's charging an astonishing $250 for its original release! This, of course, is just not the case.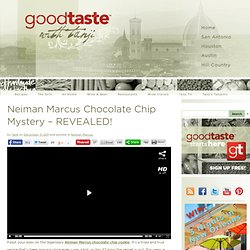 The 'Original' Neiman Marcus Chocolate Chip CookiesGood Taste with Tanji | Good Taste with Tanji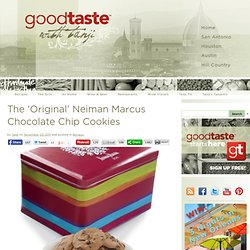 Ingredients 2 cups butter 4 cups flour 2 tsp soda 2 cups sugar 5 cups blended oatmeal 24 oz. chocolate chips 2 cups brown sugar 1 tsp salt 1 8 oz. dark chocolate bar, grated 4 eggs 2 tsp baking powder 2 tsp vanilla 3 cups chopped nuts (walnuts or pecans) Yield 50 - 80 cookies When it comes to homemade cookies, especially chocolate chip, it's hard to go wrong…usually you just end up with variations of gooey goodness!
No Bake Reindeer Drops Recipe - Food.com - 222917