Miscellaneous
iPhone in an iPhone. We've seen all sorts of augmented reality applications for mobile devices, with varying degrees of usability, but this one, created for Orange Telecom, definitely takes the cake when it comes to originality and craziness.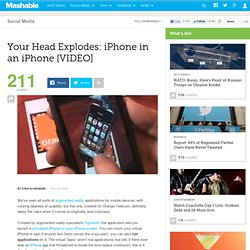 Created by augmented reality specialists Ogmento, the application lets you launch a simulated iPhone on your iPhone screen. You can zoom your virtual iPhone or spin it around, but (here comes the crazy part), you can also run applications on it. The virtual "apps" aren't real applications, but still, if there ever was an iPhone app that threatened to break the time-space continuum, this is it. See the video after the break. Visual complexity mapping networks.
How a 40,000+ Employee Company Trains its Employees on Social Me. If you need further evidence that social media is here to stay in the corporate world, look no further than Telstra, the Australian telecom giant.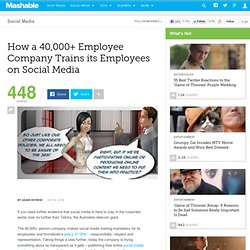 The 40,000+ person company makes social media training mandatory for its employees and formalized a policy of "3Rs" - responsibility, respect and representation. Taking things a step further, today the company is trying something about as transparent as it gets – publishing their entire social media training guide online, so that anyone can check it out, learn and critique.We got a chance to take a look at the guide, which takes the form of a comic book but also includes narration from a speaker (in a cool Australian accent too). TinyGrab Screenshot Sharing.
Jeff Han demos his breakthrough touchscreen. Droplr dragDropShare. DownloadYouTube with Opera. Twenty-five years ago, British computer scientist Sir Tim Berners-Lee made a proposal for what we know now as the Word Wide Web.
Håkon Wium Lie, our Chief Technology Officer, worked with Berners-Lee in the early 90s. He is also widely known as "Father of CSS." He recalls the first time he realized how big the World Wide Web could get. "When I first saw HTML code on my screen, I thought 'Wow'. The fact that you could build global hypertext systems with an amazingly simple code was an eye-opener for me. Grou.ps connects obsessively!
12.000.000+ members on 300.000+ groups I love groups administration, it's the easiest and simplest, just log in as any other member in your group and access the site both as a member and as the administrator. by Fansy Array, Fancreek Social Networking With GROU.PS tools like the integrated wiki, chat and forum – not only can I keep my players informed of when our next live event is, but we can host 24/7 online gaming!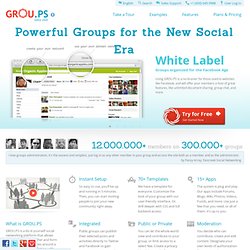 SocialMedia v Web2.0. Web 2.0.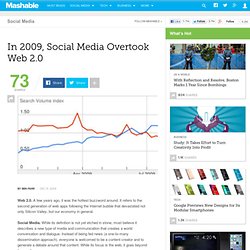 A few years ago, it was the hottest buzzword around. It refers to the second generation of web apps following the Internet bubble that devastated not only Silicon Valley, but our economy in general. Social Media. While its definition is not yet etched in stone, most believe it describes a new type of media and communication that creates a world conversation and dialogue. Instead of being fed news (a one-to-many dissemination approach), everyone is welcomed to be a content creator and to generate a debate around that content.
Scamville: The Social Gaming Ecosystem Of Hell. Last weekend I wrote about how the big social gaming companies are making hundreds of millions of dollars in revenue on Facebook and MySpace through games like Farmville and Mobsters.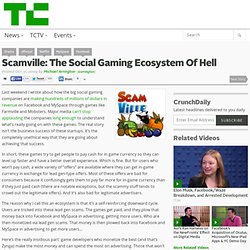 Major media can't stop applauding the companies long enough to understand what's really going on with these games. The real story isn't the business success of these startups. It's the completely unethical way that they are going about achieving that success. In short, these games try to get people to pay cash for in game currency so they can level up faster and have a better overall experience.
WhenNOTto UseSocialMedia. These days, everyone is talking about social media and discussing what services and tools to use, how to use them, why you should use them, etc.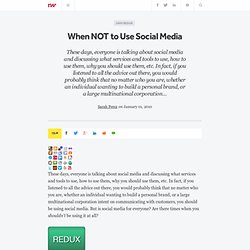 In fact, if you listened to all the advice out there, you would probably think that no matter who you are, whether an individual wanting to build a personal brand, or a large multinational corporation intent on communicating with customers, you should be using social media. But is social media for everyone? Are there times when you shouldn't be using it at all?
Who Uses Social Networks and What Are They Like? (Part 1) A study released earlier this year by Anderson Analytics looked into the demographics and psychographics of social networking users on Facebook, MySpace, Twitter, and LinkedIn with a goal of providing marketers with information about users' interests and buying habits as related to their network of choice.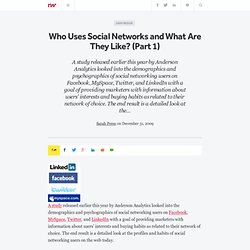 The end result is a detailed look at the profiles and habits of social networking users on the web today. Some of the study's findings echo things we've already heard. For example, Facebook users tend to be old, white, and rich. MySpace users are young...and fleeing.
---