Socent
La Guilde Européenne du Raid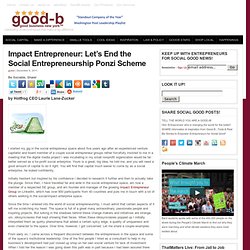 by Hotfrog CEO Laurie Lane-Zucker I started my gig in the social entrepreneur space about five years ago after an experienced venture capitalist and board member of a couple social entrepreneur groups rather forcefully insisted to me in a meeting that the digital media project I was incubating in my small nonprofit organization would be far better served as a for-profit social enterprise. Yours is a great, big idea, he told me, and you will need a good amount of capital to do it right.
Impact Entrepreneur: Let's End the Social Entrepreneurship Ponzi Scheme | Good Business International
Voici une première tentative (à ma connaissance) de création d'une liste d'initiatives françaises (ou ayant des activités en France) sur la consommation collaborative (voir la définition au bas de cet article).