TUTORIALES
Decálogo del Fotógrafo | jggWeb: Fotografía y Retoque Digital. 18 septiembre, 2006 a las 16:33 Según el diccionario de la Real Academia Española, un decálogo es un conjunto de normas o consejos que, aunque no sean diez, son básicos para el desarrollo de cualquier actividad.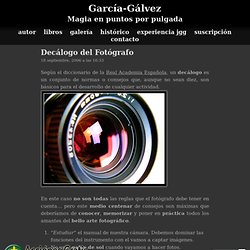 En este caso no son todas las reglas que el fotógrafo debe tener en cuenta… pero este medio centenar de consejos son máximas que deberíamos de conocer, memorizar y poner en práctica todos los amantes del bello arte fotográfico. "Estudiar" el manual de nuestra cámara. Debemos dominar las funciones del instrumento con el vamos a captar imágenes.No usar gafas de sol cuando vayamos a hacer fotos.Trabajar con la máxima resolución que permita la cámara.
Photofocus. Transforming a Daylight Image Into a Wild Night - PSDTUTS. How to Win Friends and Influence People – A Guide to Commenting on Other People's Photos. A Post By: Neil Creek The following post is from Australian photographer Neil Creek who is part of the Fine Art Photoblog, and is developing his blog as a resource for the passionate photographer.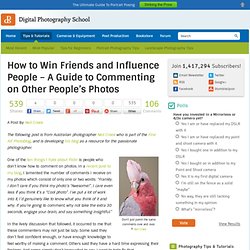 Don't just parrot the same comments over and over.© Neil Creek One of the ten things I hate about Flickr is people who don't know how to comment on photos. Tilt-Shift Photography Photoshop Tutorial | Miniature Faking | TiltShiftPhotography.net. This tutorial will walk you through how to create a tilt-shift image in Photoshop.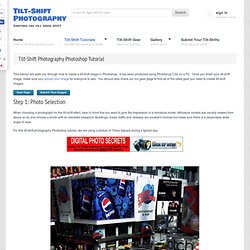 It has been produced using Photoshop CS2 on a PC. Once you finish your tilt-shift image, make sure you upload your image for everyone to see. You should also check our our gear page to find all of the latest gear you need to create tilt-shift images. Gear PageSubmit Your Images Step 1: Photo Selection. 5 Black and White Photography Tips.
A Post By: Darren Rowse Continuing the Black and White Photography theme we've been on lately in the latest forum assignment (where the photos featured in this post were submitted) I thought I'd share five pretty random Black and White Photography Tips. 1.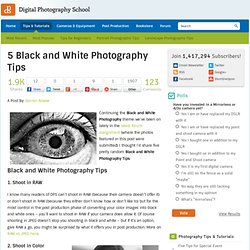 Shoot in RAW. Studio In A Small Space. Much of my portrait and fashion photography is done on location, but living in a place like Colorado the models (and the photographer, too) just aren't always in the mood to stomp around in the cold weather and snow.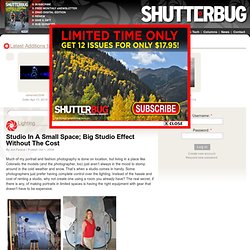 That's when a studio comes in handy. Some photographers just prefer having complete control over the lighting. Instead of the hassle and cost of renting a studio, why not create one using a room you already have? The real secret, if there is any, of making portraits in limited spaces is having the right equipment with gear that doesn't have to be expensive. 26 Professional Photoshop Retouching Tutorials. Adobe Photoshop is the go-to tool for digital artists when it comes to professionally retouching images.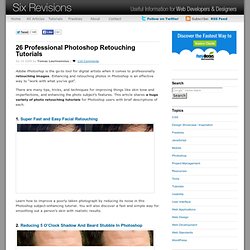 Enhancing and retouching photos in Photoshop is an effective way to "work with what you've got". There are many tips, tricks, and techniques for improving things like skin tone and imperfections, and enhancing the photo subject's features. This article shares a huge variety of photo retouching tutorials for Photoshop users with brief descriptions of each. 1. Super Fast and Easy Facial Retouching. 100 Helpful Photography Tutorials for Beginners and Professionals.
Photography as both a profession and a hobby is an incredibly expansive topic that covers a remarkably vast range of subjects from science and art.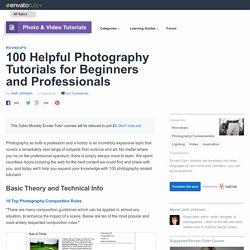 No matter where you lie on the professional spectrum, there is simply always more to learn. We spent countless hours scouring the web for the best content we could find and share with you, and today we'll help you expand your knowledge with 100 photography related tutorials!
---