Science and technology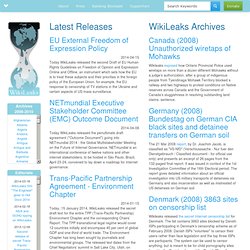 EU External Freedom of Expression Policy Today WikiLeaks released the second Draft of EU Human Rights Guidelines on Freedom of Opinion and Expression Online and Offline, an instrument which sets how the EU is to treat these subjects and their priorities in the foreign policy of the European Union, for example, the EU response to censorship of TV stations in the Ukraine and certain aspects of US mass surveillance. NETmundial Executive Stakeholder Committee (EMC) Outcome Document Today WikiLeaks released the penultimate draft agreement ("Outcome Document") going into NETmundial 2014 - the Global Multistakeholder Meeting on the Future of Internet Governance. NETmundial is an international conference of twelve nations and other internet stakeholders, to be hosted in São Paulo, Brazil, April 23-24, convened to lay down a roadmap for internet governance.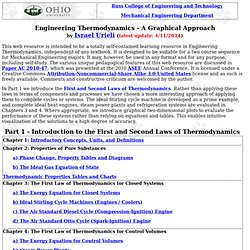 Engineering Thermodynamics - A Graphical Approach by Israel Urieli (latest update: 4/11/2014) This web resource is intended to be a totally self-contained learning resource in Engineering Thermodynamics, independent of any textbook. It is designed to be suitable for a two course sequence for Mechanical Engineering majors. It may, however, be used in any format and for any purpose, including self-study. The various unique pedagogical features of this web resource are discussed in Paper AC 2010-47, which was presented at the 2010 ASEE Annual Conference. It is licensed under a Creative Commons Attribution-Noncommercial-Share Alike 3.0 United States license and as such is freely available.
Thermodynamics Graphical Homepage - Urieli - updated 6/4/2012)