Javafx1.2
JavaFX Tutorial | Learn JavaFX Script for Web Application Design
Hands On JavaFX: Scripting the Scene Graph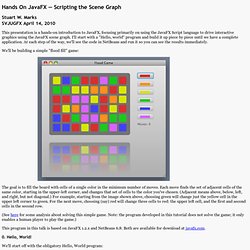 Stuart W. Marks SVJUGFX April 14, 2010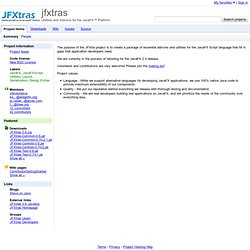 jfxtras - Project Hosting on Google Code
The purpose of the JFXtra project is to create a package of essential add-ons and utilities for the JavaFX Script language that fill in gaps that application developers need. We are currently in the process of retooling for the JavaFX 2.0 release.
States of Applications in JavaFX Composer - NetBeans Tutorial Get set up The first step in getting started with JavaFX is to download and install the Java SE 7 JDK, which includes the JavaFX runtime libraries and utilities.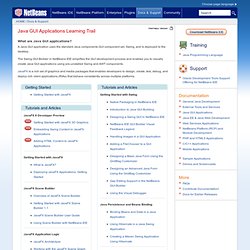 What are Java GUI applications? A Java GUI application uses the standard Java components GUI component set, Swing, and is deployed to the desktop. The GUI Builder in NetBeans IDE enables you to create Java GUI applications visually.
Java and JavaFX GUI Application Learning Trail - NetBeans Tutori
JavaFX Tutorial | Get Started with JavaFX Script for Web Applica
Share
JavaFX in Action: Developing Classes - Multiple inheritance: com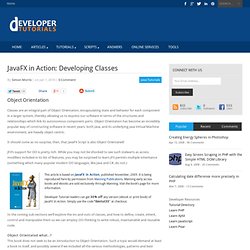 JavaFX Language Reference
The graphic database front-end « JFXStudio: sketch, hack, share
Magic Constants - Planet JFX
What is JavaFX Script?
Talk: JavaFX Layout Secrets with Amy Fowler
Use JavaFX - without boundaries!
JavaFX 1.2.3 API | Overview | Java FX
Dr Dobbs - JavaFX Database Programming with Java DB
Database - Planet JFX