Cookies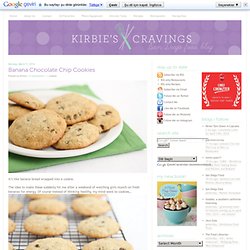 Monday, March 5, 2012 Banana Chocolate Chip Cookies It's like banana bread wrapped into a cookie.
Banana Chocolate Chip Cookies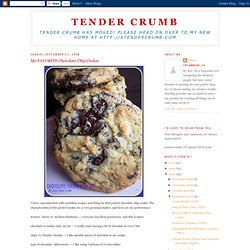 I have experimented with countless recipes searching for that perfect chocolate chip cookie. The characteristics of the perfect cookie are a very personal matter, and here are my preferences: texture: chewy w. medium thickness --- everyone has their preference, and this is mine! chocolate to cookie ratio: 50/50 --- I really enjoy having a lot of chocolate in every bite
I was at the grocery store the other day and found Peppermint Crunch Junior Mints-they were begging to jump into my cart. I bought a few boxes and decided to create a holiday cookie with them. It snowed on Saturday, which was my excuse to stay in my pj's, turn on the Christmas tunes, and bake the day away.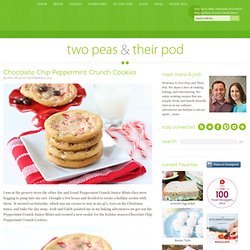 Chocolate Chip Peppermint Crunch Cookies Recipe | Two Peas & Their Pod
Salty and sweet. Crunchy and melt-in-your-mouth. Peanut butter and chocolate. Dangerous and delicious (you know what I mean). One little bite, so much to experience.
Have I got a treat for you today right before Valentines day! I was getting ready to cut my traditional sugar cookies in the shape of hearts for this post and a little light bulb went off! I don't know if I was craving cinnamon rolls or what, but I thought to myself….I am soooo making these sugar cookies into cinnamon rolls! Brace yourself friends, you will NOT be able to stop eating these, they are that good. My husband and I both agree the only way to enjoy these beauties is after they've chilled in the fridge for at least 30 minutes. Talk about heaven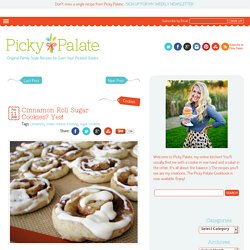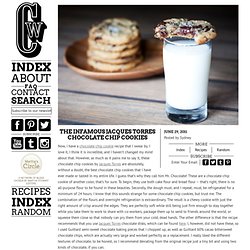 Now, I have a chocolate chip cookie recipe that I swear by. I love it, I think it is incredible, and I haven't changed my mind about that. However, as much as it pains me to say it, these chocolate chip cookies by Jacques Torres are absolutely, without a doubt, the best chocolate chip cookies that I have ever made or tasted in my entire life. I guess that's why they call him Mr. Chocolate!