Weird & Creepy
List of unusual deaths. This is a list of unusual deaths.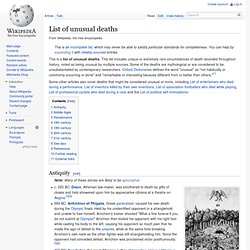 This list includes unique or extremely rare circumstances of death recorded throughout history, noted as being unusual by multiple sources. Some of the deaths are mythological or are considered to be unsubstantiated by contemporary researchers. Oxford Dictionaries defines the word "unusual" as "not habitually or commonly occurring or done" and "remarkable or interesting because different from or better than others. The world's ten creepiest abandoned cities.
Mark Jenkins // Street Installations. 50 Tips for College Students. I did the "extended tour" of college.
From about 1991-2002. I did get 4 degrees, so at least I have an excuse. :) I've also been an adjunct professor, so I've also been at the other side of the classroom. 1) The Freshman Fifteen does exist. So does the Freshman Twenty. Creepy, Crusty, Crumbling: Illegal Tour of Abandoned Six Flags New Orleans [75 Pics] Hurricane Katrina killed this clown.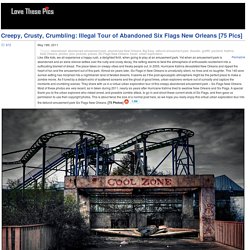 According to the photographer, "An abandoned Six Flags amusement park, someone spray painted 'Six Flags 2012 coming soon' on the wall above the downed head. But they were clownin.'
---