Pos Produção
Official Advanced Photoshop Blog
xoio-air.de
BLOG - architectural rendering and illustration blog
Making of Tobacco Company Headquarters by Vladislav Dechev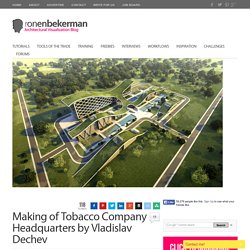 99 Flares Facebook 69 Twitter 8 Pin It Share 12 12 Google+ 3 LinkedIn 7 inShare7 StumbleUpon 0 99 Flares × Forum member Vladislav Dechev (graffitiman) posted an interesting set of renders of the Tobacoo Company Headquarters in Sicuan, China. The design has a unique look, with a green roofs emerging from the ground covering the structural elements. Vladislav was kind enough to share a few aspects of the visualization creation.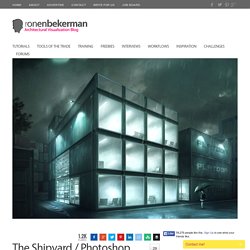 Photoshop Postwork Breakdown Video / The Shipyard
713 Flares Facebook 452 Twitter 63 Pin It Share 65 66 Google+ 127 LinkedIn 5 inShare5 StumbleUpon 1 713 Flares × My never-ending quest of exploring pure 3d vs. postwork methods of doing architectural visualization has acquainted me with Pixelflakes. There latest "Concrete Cliff" postwork breakdown was pretty fascinating and I asked them if they could do a similar thing, but at night this time! They kindly agreed and the "Shipyard" was born.
How to enhance 3d renders with 2d elements
20 Flares Facebook 0 Twitter 4 Pin It Share 12 12 Google+ 3 LinkedIn 1 inShare1 StumbleUpon 0 20 Flares × When i first started out with architectural visualization i was very strict about doing it 3d all the way, but today almost every image i create incorporates some 2d techniques applied in post using software such as photoshop. sometimes i add elements i didn't have time to create in 3d or forgot about them. Other times i plan before hand on adding those elements and save time this way – especially if I'm not sure the client will approve them and this way i can just hide the layers. the technique I'll describe in this post is especially useful and easy to apply in single focal point images. I'll use the HO House image for the demonstration and below you can see the original render before the addition of 2d elements and the after image with those elements marked. After the break i will elaborate further on how I've added each of those elements.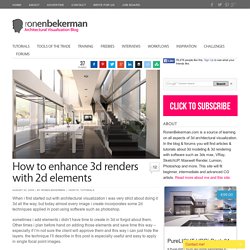 Making of Narrabeen House
215 Flares Facebook 91 Twitter 21 Pin It Share 36 37 Google+ 57 LinkedIn 3 inShare3 StumbleUpon 7 215 Flares × Guillaume Favre takes us into the process of making his January 28 Best of Week forum entry – The Narrabeen House 3d recreation, originally designed and realized by Choi Ropiha Fighera architecture studio. Located in Sydney, Australia, I fell in love with this work for the same reasons Guillaume picked it as his personal project subject… great contemporary design with generous use of wood. I love the wood treatment in the 3d version and the end result as a whole, which has a stylistic feel to it vs. the real project photos.