Blogs scientifiques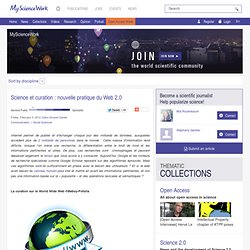 Internet permet de publier et d'échanger chaque jour des milliards de données, auxquelles accèdent plus de 2 milliards de personnes dans le monde. Cette masse d'information rend difficile, lorsque l'on mène une recherche, la différentiation entre le bruit de fond et les informations pertinentes et utiles. De plus, ces recherches sont chronophages et peuvent dépasser largement le temps que nous avons à y consacrer. Aujourd'hui, Google et les moteurs de recherche spécialisés comme Google Scholar reposent sur des algorithmes éprouvés.
Comment l'interface homme-machine révolutionne notre quotidien - Business & Innovation - Enquêtes
Le facteur h — Espace IST Cemagref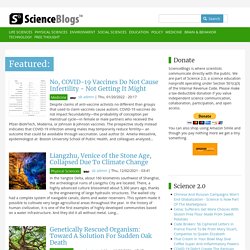 So, the bad news is that it is looking increasingly likely that the world will experience a very strong El Nino event this 2014-2015 winter (winter in the N. hemisphere, summer down under). There is even talk of a super-El Nino, one to rival 1998′s phenomenal event. Lots of good information on that here at…
RHIC | Relativistic Heavy Ion Collider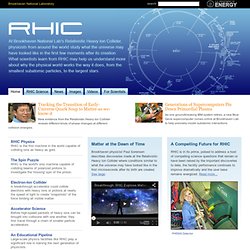 RHIC Physics RHIC is the first machine in the world capable of colliding ions as heavy as gold. The Spin Puzzle RHIC is the world's only machine capable of colliding beams of polarized protons to investigate the 'missing' spin of the proton. Electron-Ion Collider A breakthrough accelerator could collide electrons with heavy ions or protons at nearly the speed of light to create "snapshots" of the force binding all visible matter. Accelerator Science Before high-speed packets of heavy ions can be brought into collisions with one another, they first travel through a chain of smaller particle accelerators.
Director and Senior Scientist McMaster Stem Cell and Cancer Research Institute (SCC-RI) Professor, Department of Biochemistry and Biomedical Sciences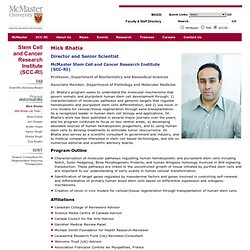 University > SCC-RI > Mick Bhatia
Chimistes pour l'environnement
For Scientists. Make your research visible. Join for free Connect with Facebook Research visibility Add your publications, access millions more, and make your research visible. Connect and collaborate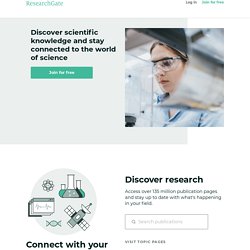 For new readers, this collection of "missing links" rounds up fascinating stuff I find around the internet, and appears every Saturday. It's separated into Top Picks (the best stuff), Science/News/Writing (science writing), Heh/Wow/Huh (silliness, satire, photos, videos), and Journalism/Internet/Society (a miscellany of my other interests). If links are broken, let me know in the comments. Top picks "Restless genes" by David Dobbs, about the genetics and other factors behind the human urge to explore, is one of the best science stories of the year, let alone the week. It's beautifully written without sacrificing nuance.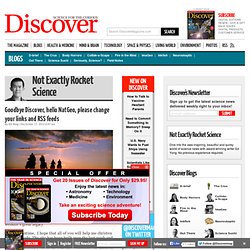 quand les scientifiques se mettent a bloguer…
Créé en mai 2006, nous sommes un comité environnemental qui œuvre au sein du département de chimie de l'Université Laval afin de promouvoir le développement durable et de sensibiliser les membres du département à cet aspect de leur travail ou de leurs études. Les Chimistes pour l'Environnement ont pour objectif de : Promouvoir la préservation de l'environnement Améliorer l'empreinte écologique du département Développer la conscience environnementale des membres du département Aider à appliquer les règles du développement durable Faire du département de chimie un chef de file et un exemple en matière de développement durable Notre action est axée sur la mise en place de gestes simples et concrets (voir nos actions), qui visent notamment la réduction à la source et le recyclage.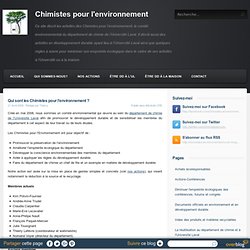 Qui sont les Chimistes pour l'Environnement ? - Chimistes pour l'environnement
Au lendemain de la victoire de François Hollande aux primaires socialistes, Libération ornait sa Une d'une photo laudative de Sébastien Calvet (voir ci-contre) – tout en niant fermement, par la voix de Sylvain Bourmeau, toute orientation politique dans ce choix décrit comme purement esthétique. Même si le recul permet aujourd'hui de mieux percevoir ce que cette option éditoriale pouvait avoir de propagandiste, le message porté par l'image n'est jamais limpide ni univoque. Comme le montre la discussion développée sous mon billet de l'époque, des lectures divergentes pouvaient s'exprimer sans qu'il soit possible de trancher de manière définitive dans un sens ou un autre. L'impression délivrée par l'accueil des résultats d'un scrutin électoral est souvent de même nature.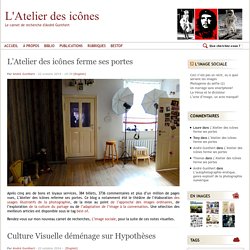 Magazine H2o | H2o Magazine | Accueil
Lutter contre la surpêche, les OGM, le changement climatique et le nucléaire, sauver l'Arctique, le thon rouge, les baleines et les forêts… Autant de combats que mène la célèbre association de défense de l'environnement, partout sur la planète. Mais, pour peser sur les choix politiques des gouvernements, il faut constituer un contre-pouvoir d'autant plus légitime qu'il peut se targuer d'être plus représentatif. L'interview de Gilles-Éric MENDEL par Nicole MARI – Corse Net Infos.
« Une nouvelle étude montre que les bactéries survivent plus longtemps dans les solutions de nettoyage pour lentilles de contact qu'on ne le pensait préalablement ». Source SGM du 17 avril 2014. Chaque année au Royaume-Uni, les infections bactériennes causent environ 6 000 cas d'une affection grave des yeux appelée kératite microbienne, une inflammation et une ulcération de la cornée qui peut conduire à une perte de la vision.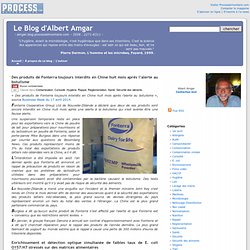 RSA Animate – Re-Imagining Work How can we get people more engaged, more productive, and happier at work? Is technology part of the problem – and could it also be part of the solution? Dave Coplin, Chief Envisioning Officer at Microsoft, imagines what might be possible if more organisations embraced the full, empowering potential of technology and encouraged a truly open, collaborative and flexible working culture. Taken from a talk given by Dave Coplin as part of the RSA's free public events programme. Visit the RSA website for more RSA Animates.
LCME - chimie, microbiologie et traitement de l'eau
Le selenium dans les eaux - L' étude qui pourrait faire changer la norme Le sélénium est un élément minéral présent, dans l'eau et les aliments. Il est nécessaire pour vivre mais il peut devenir toxique si la dose ingérée est trop grande.
Research Groups and Staff
Actualité | UdA Blog
Chemistry Blog » Blog Archive » How Water Freezes Lower on a Negatively Charged Surface
I first heard this on National Public Radio and then I searched for it. In short, David Ehre, Etay Lavert, Meir Lahav, and Igor Lubomirsky report in Science, (Water Freezes Differently on Positively and Negatively Charged Surfaces of Pyroelectric Materials) water freezes at a lower temperature (-18°C) on the negatively charged side of a lithium tantalate plate with a strontium titanate film than on the positive side (-7°C, and -12°C uncharged). Is this unique or is this a manifestation of something in our standard introductory organic chemistry textbooks?
Intellicore Tech Talks - intellicore
Le blogging scientifique
Chemistry Tutorial 7.03a: Intermolecular Attractive Forces | HoloWater.com - Create Your Own Highly Structured Water
Water splitting over nanowires
Water Chemistry
How to Handle Vacuum Crystallizer / Cooling Crystallizer, those are commission this plant, the following subjects to be checked, while operating the plant After commission the Vacuum Crystallizer before going to start the system, Ensure the Steps / Checklist 1. Raise the vacuum first using by cooling tower after reaching around 100- 200 mmHg. Inject the steam into Primary Condenser [....]