Firefox Add-on's
Privacy Policy This Privacy Policy governs the manner in which Greasemonkey collects, uses, maintains and discloses information collected from users (each, a "User") of the Greasemonkey Application. This privacy policy applies to the Application and all products and services offered by Greasemonkey.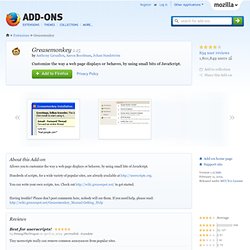 Works, barely, and not as expected Rated 1 out of 5 stars by Cyberknight on March 28, 2014 · permalink · translate I had this problem: I needed to check hundreds of entries on a government private secure system for specific information, which might or might not be available, and data-mine it, that is, copy specific records and nothing more, as it would be hellish to filter out the unnecessary data if I had to copy all the displayed information. The system itself stinks, it does not have a fixed Page layout, so a global macro would never work (it's impossible to tell where on the screen a specific button, link or 'clickable' icon will be displayed, so it's necessary to parse each page, looking for that specific element).
Live HTTP Headers
NEVER install this extension from anywhere other than here, or the homepage. n.b. suggestions and functionality request can really only be handled by sending me an email... It's usually impossible to fix bugs without extra information, so if you find something, email me. w.r.t. to GET parameters: GET parameters are part of the URI, which at the point I am hooking into (using the observer service) is immutable.
Tamper Data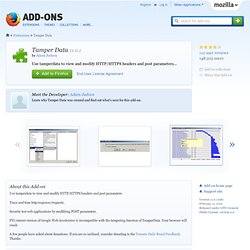 Mouseless Browsing
Bugfix for FF 25 can be found here:https://addons.mozilla.org/en-US/firefox/addon/mouseless-browsing/versions/0.5.6Build201310302030 The development of MLB is currently suspended. Feature List: * Supports numeric as well as character ids; character set configurable * Option to show ids before entire page is loaded * Configurable modifiers to open link in new tab/window/Cooliris Previews * Configuration option to use numpad exclusively for Mouseless Browsing * Configuration options to define for which elements ids should be shown (form element, links, pure image links, frames, other clickable elements) * Smart positining of ids: Ids for image links, textfields, selectboxes are placed in the right upper corner to minimize the impact on the page layout. * Possiblity to configure URL specific behaviour (black/whitelist) * Configurable shortcuts for all Mouseless Browsing actions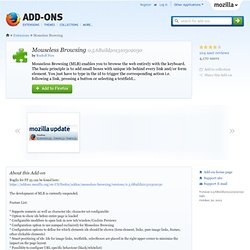 Web Developer :: Add-ons for SeaMonkey
Version 1.2.5 Added localizations: Czech (Čeština) Fixed issues: 'Find Broken Images' did not work 'View Color Information' did not work 'View Form Information' did not work 'View Link Information' did not work 'View Meta Tag Information' did not work Localization errors made the toolbar disappear The toolbar icon was too large on Windows Various minor code fixes This add-on is not compatible with your version of SeaMonkey because of the following: See complete version history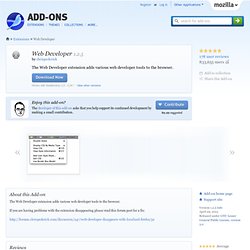 Must Have - lacking some features ! Rated 5 out of 5 stars by j74 on December 20, 2013 · permalink · translate Hi, I'm using it, massively, in my work, everyday, along with firebug I also have some suggestions :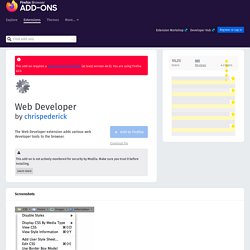 Search Add-ons :: Add-ons for SeaMonkey
The Development Channel lets you test an experimental new version of this add-on before it's released to the general public. Once you install the development version, you will continue to get updates from this channel. To stop receiving development updates, reinstall the default version from the link above. Install development version Caution: Development versions of this add-on have not been reviewed by Mozilla. Version 2.0b1: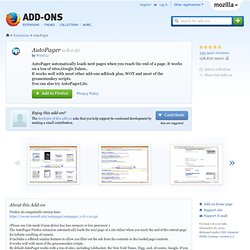 AutoPager
Recent update may failed to install due to some mozilla site issue: https://bugzilla.mozilla.org/show_bug.cgi?id=544587 (Please use AutoPagerLite if your device has less memory or low processor.)You can tryCtrl+ALT+3 if AutoPager doesn't automatically work on your google search.
ReminderFox
Launch Your Top Sites:To open the top sites view, open FoxTab and select [My Top Sites] from the top bar.To add pages to the top sites panel, just press the mouse right click button on the page you would like to add and click [Add to Top Sites]. While in top sites mode, on the bottom-left corner you can find the "Edit" button.The edit mode let you rearrange the thumbnails using a simple drag and drop gestures. You can also set the size of the top sites panel. Opened Tabs:To flip between the currently opened tabs, open FoxTab and select [Opened Tabs] from the top bar.By clicking on a given thumbnail, the selected tab will be focused.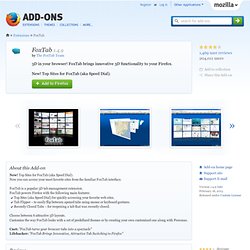 Information to help future users Rated 5 out of 5 stars by kanmoz on February 21, 2014 · permalink · translate After reading a number of reviews, I decided that people were trying to do things that were just plain not working and they were breaking the files in their attempts. This add-on works for me every time. This is advice to future users that want to use Password Exporter to change their passwords on a site. 1.
Password Exporter