Dinner
Bacon & Garlic Encrusted Roast Pork Loin. What's better than roasted pork?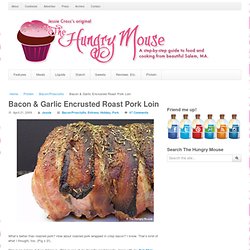 How about roasted pork wrapped in crisp bacon? I know. That's kind of what I thought, too. Stuffed Pork Chops with Prosciutto, Mozzarella, and Sage. The Angry Chef's Garlicky Lemon-Pepper Chicken. A lot of folks have asked me for this recipe.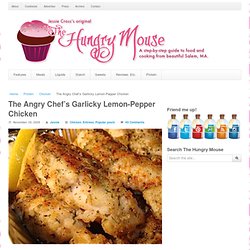 It's one of The Angry Chef's signature dishes, and I was lucky to pry it away from him. This recipe is a dream come true for garlic lovers like me. Evil chef mom: cheese fritters with balsamic sun-dried tomato dipping sauce. Don't these look better than fried mozzarella sticks that you get at T.G.I.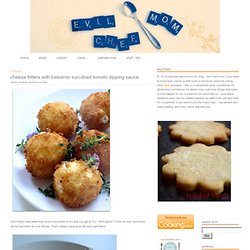 McFuglies? Come on they have fresh thyme sprinkled all over the top. That's called classing up the joint right there. And while I am writing about these make sure you use whole milk ricotta. Don't even think about using skim milk ricotta. Quick Chicken and Gravy — Our Life In The Kitchen. It's been a busy week, one where quick and easy is the only hope of cooking dinner instead of doing takeout.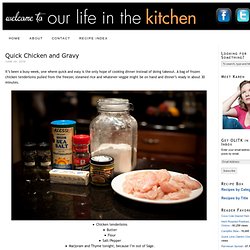 A bag of frozen chicken tenderloins pulled from the freezer, steamed rice and whatever veggie might be on hand and dinner's ready in about 30 minutes. Chicken tenderloinsButterFlourSalt/PepperMarjoram and Thyme tonight, because I'm out of Sage.Chicken Broth Melt enough butter to generously cover the bottom of a large saute pan. Heat until it's just barely turning brown. Add the chicken and season with salt, pepper and herbs.
---