Tecnologia
10 herramientas gratuitas para hacer excelentes Infografías.
En los últimos tiempos hemos visto como las infografías han alcanzado un nivel de gusto entre los usuarios de Internet, eso es simple solemos entender más con imágenes que el texto simple. Las personas diseñan las mismas con atractivos que gusten al lector, y por supuesto que reúna toda la información que deseas trasmitir. Por experiencia propia las infogafías suelen ser de los post más compartidos en las redes sociales, de ahí a que cada día hay cientos de ellas girando por la red, porque te permiten tratar cualquier tipo de temas. Así que hoy te presento una lista con 10 aplicaciones gratuitas que no permitirán hacer esas infografías, claro hace falta creatividad y sobre todo buenos datos. Espero les pueda ser útil a todos los lectores que se animen a crearlas y si lo hacen ya sabes que en Geekroom estaremos encantados de compartirlas.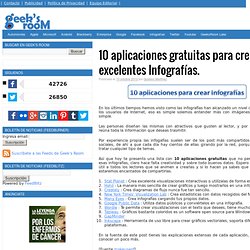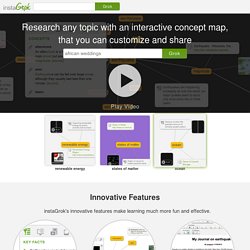 Research any topic with an interactive concept map, that you can customize and share Innovative Features instaGrok's innovative features make learning much more fun and effective.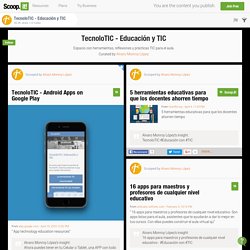 Tecnolotic - TIC en educación
Libros Digitales Les acercamos este sitio en el que podrán acceder a textos, manuales y libros de diversas disciplinas, categorizados por colección o serie. Los materiales están en formato PDF, para descargar o imprimir. Los archivos también pueden descargarse en formato ePub, es decir, como libro electrónico (e-book).