Nutrition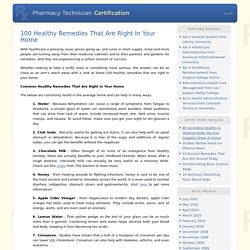 With healthcare a pressing issue, prices going up, and cures in short supply, more and more people are turning away from their medicine cabinets and to their pantries and gardens for remedies. And they are experiencing a certain amount of success. Whether looking to help a stuffy nose or something more serious, the answer can be as close as an arm's reach away with a look at these 100 healthy remedies that are right in your home. Common Healthy Remedies That Are Right In Your Home The below are commonly found in the average home and can help in many ways. Healthy Remedies To Help You Lose Weight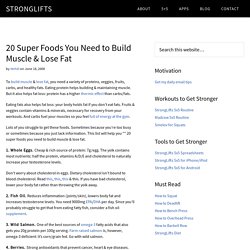 To build muscle & lose fat , you need a variety of proteins, veggies, fruits, carbs, and healthy fats. Eating protein helps building & maintaining muscle. But it also helps fat loss: protein has a higher thermic effect than carbs/fats. Eating fats also helps fat loss: your body holds fat if you don't eat fats.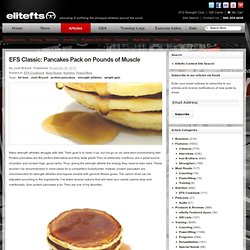 Many strength athletes struggle with diet. Their goal is to clean it up, but not go on an ultra-strict bodybuilding diet. Protein pancakes are the perfect alternative and they taste great! They're extremely nutritious, are a great source of protein and contain high, good carbs. Thus, giving the strength athlete the energy they need to train hard.
Which Food Has More Sugar?
Who came up with the idea that we are supposed to drink orange juice at breakfast? And why, if oatmeal is so good for us, do we eat that only in the morning as well? Apologies to the Palinites, but nutritionists are starting to realize that you and I like our oatmeal and OJ before we start the day because we evolved to like it that way—because enjoying the two together is healthier than eating each of them alone.
Why does orange juice taste so good with oatmeal? And what is it about olive oil that enhances the flavor of tomatoes? The answers to these questions, it turns out, are buried deep within our instincts. New evidence suggests that certain foods that taste great together also interact with one another in nutritionally positive ways.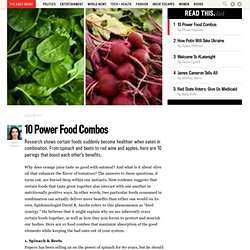 NUTRITION |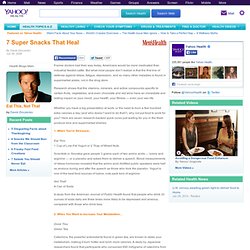 If some doctors had their way today, Americans would be more medicated than industrial feedlot cattle. But what most people don't realize is that the first line of defense against stress, fatigue, depression, and so many other maladies is found in supermarket aisles, not in the drug store. Research shows that the vitamins, minerals, and active compounds specific to certain fruits, vegetables, and even chocolate and red wine have an immediate and lasting impact on your mood, your health, your fitness — even your sex life. Whether you have a big presentation at work, or the need to burn a few hundred extra calories a day (and who doesn't want to do that?), why not put food to work for you?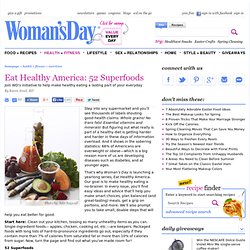 Step into any supermarket and you'll see thousands of labels shouting good-health claims: Whole grains! No trans fats! Essential vitamins and minerals!
Toxins-free for life Looking to increase your energy levels, to lose weight, get clearer skin, prevent premature ageing and to help preventing diseases? Then look no further! This 5 days step-by-step detox will help you implement long-lasting healthy habits that yields results.
Deutsch: Gesundheits- und Fitnessrechner Here you can calculate the following informations on health and fitness topics: BMI | Ideal weight | Calorie consumption | Liquid consumption | Walking Index | Nutrition values | Vitamin table | Basic conversion | Body fat (adipose) rate | Optimal training pulse and heart rate | Protein requirement | Fat requirement | Nutrition value need | WHR - Waist to hip ratio | Drink reminder Vitamins Here you can find a detailed table of the most important vitamins . Indicated is in which food it is most, the effectiveness, what happens at deficiency and overdosing, the daily need, who has an advanced need and the qualities of the vitamins. Convert length units and weight units . © Jumk.de Webprojects | Imprint & Privacy No responsibility is taken for the correctness of these informations. <div style="color:#ff0000;font-weight:bold">JavaScript must be activated to be able tu use the calculator.