Backchannels
As a Product Marketing Manager, I have the opportunity to work with many different Product Managers at once. This means I get exposure to a wide range of new features – typically from conception to full release. This past quarter, one feature in particular caught my attention: New User Badges. There is an interesting story behind this feature, so I sat down with Product Manager Christina Lucey to talk through the development and process behind this feature. Michelle Tandler: So Christina, what is a New User badge? Christina Lucey: A New User Badge is an overlay across the bottom of a new user's profile picture.
Blog | The Yammer Blog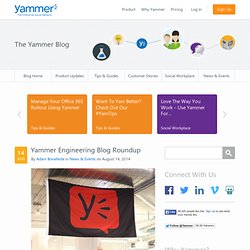 How to Ignite a Yammer Network? Try a YamJam!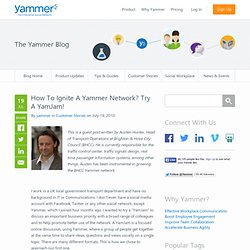 This is a guest post written by Austen Hunter, Head of Transport Operations at Brighton & Hove City Council (BHCC). He is currently responsible for the traffic control center, traffic signals design, real time passenger information systems, among other things. Austen has been instrumental in growing the BHCC Yammer network.
Encouraging a Conference Backchannel on Twitter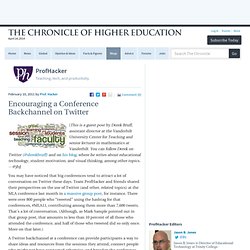 [ This is a guest post by Derek Bruff, assistant director at the Vanderbilt University Center for Teaching and senior lecturer in mathematics at Vanderbilt. You can follow Derek on Twitter ( @derekbruff ) and on his blog , where he writes about educational technology, student motivation, and visual thinking, among other topics. -- @jbj ] You may have noticed that big conferences tend to attract a lot of conversation on Twitter these days. Team ProfHacker and friends shared their perspectives on the use of Twitter (and other, related topics) at the MLA conference last month in a massive group post , for instance. There were over 800 people who "tweeted" using the hashtag for that conferences, #MLA11, contributing among them more than 7,600 tweets.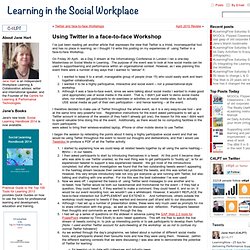 Using Twitter in a face-to-face Workshop
I've just been reading yet another article that expresses the view that Twitter is a trivial, inconsequential tool and has no place in learning, so I thought I'd write this posting on my experiences of using Twitter in a face-to-face Workshop. On Friday 30 April, as a Day 3 stream at the Informatology Conference in London I ran a one-day Masterclass on Social Media in Learning. The purpose of the event was to look at how social media can be used to support learning and performance within an organisational context.
Tutorial on Using Twitter Hashtags with Conferences