Home Decor
This is the photo that got me busy writing this ideabook. I had never before seen a glass-sided bathtub, and this one completely appeals to my minimalist tendencies. The architect, David Stern, says the client wanted this custom made tub for the kids bathroom and wanted it to feel fresh and fun.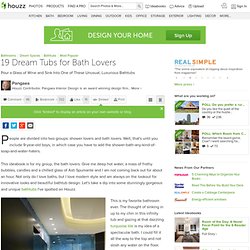 A Chair for Clingy Lovers If you've ever had someone sit in your lap, you know that 15 minutes is about the max your legs can handle. It's really not fair. The Hug chair brings simple design and human gesture together for that extra time you want to sit with your significant other.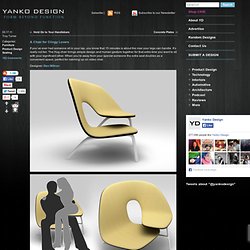 Wall Decals and Wall Stickers | Dezign With a Z : vinyl wall decals
We offer a wide array of products, ranging from full wall mural decals that dramatically alter an entire room to more subtle decals that add a touch of ambiance. DezignWithaZ.com boasts the largest selection of decorative wall stickers and murals online, with an extensive range of abstract designs, characters, clocks, floral patterns, funny and whimsical options, glow-in-the-dark decals, mirrors, music themes, nature-inspired art, sport themes, trees and much more. Our product selection includes wall decals for kids, teens and adults, with looks from classic to contemporary and everything in between.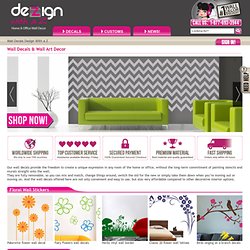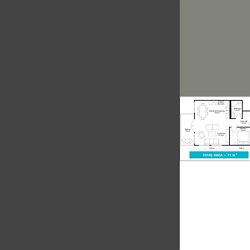 Adobe Flash Player 10 or newer must be installed - Download the latest version here. Create your floor plan before you complete any do-it-yourself home improvement. Get home design inspiration. Will your bed fit in the new apartment? What will that couch look like in the living room? RoomSketcher lets you try before you buy.
F2F5ED #FFC200 #FF5B00 #B80028 #84002E #4AC0F2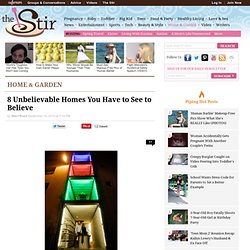 8 Unbelievable Homes You Have to See to Believe
A home office that's less than eight feet wide but four stories high, an apartment with 24 rooms in just 344 square feet, a secret room hidden under the stairs, a real-life wardrobe with a secret passage way, elaborate homes built in storm drains underneath Las Vegas ... you definitely have to see these eccentric homes to believe them. Check out the 8 Unbelievable Homes we found, and tell us which one you find most amazing. Shown above: 1. Raddest Skinny House
Rocks, stones and pebbles have been used as decorative objects since... well... the stone age actually. But, rocks are usually a bit hard to be around. They often look cool, but you wouldn't exactly hug one - until now!
Soft as a Rock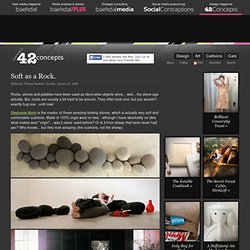 Colors can be a great way to give a new look to any space.From decades people are concerned with the paint colors of their homes and certain myths have been developed in people's minds which are not true.These myhts are still considered as right by many people however with the help of most of the designer's work we can see that these myths are not true at all.In fact the negation of these myths have resulted in more beautiful interior design ideas.You can see the listed 12 myths and then their opposite in the form of pictures which is absolutly very beautiful.We hope you will enjoy this article 1. A ceiling should always be white. Because of the highest reflective value and neutral nature of white paint people are tempted to use it as their ceiling color however this is not the last option. A darker color ceiling can also be very effective in creating drama and illusion of space. ...... 2.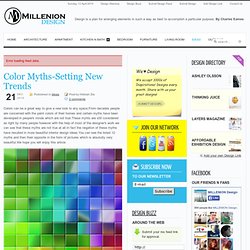 Color Myths-Setting New Trends