Gov. and NGOs
Acqua For Life – Help us raise drops for those in need of safe, clean drinking water
Learn the Issues: Climate Change | Learn the Issues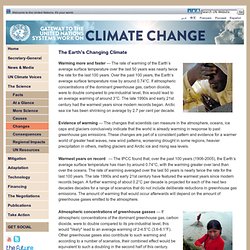 Warming more and faster — The rate of warming of the Earth's average surface temperature over the last 50 years was nearly twice the rate for the last 100 years. Over the past 100 years, the Earth's average surface temperature rose by around 0.74°C. If atmospheric concentrations of the dominant greenhouse gas, carbon dioxide, were to double compared to pre-industrial level, this would lead to an average warming of around 3°C. The late 1990s and early 21st century had the warmest years since modern records began. Arctic sea ice has been shrinking on average by 2.7 per cent per decade.
Gateway to the UN System's Work on Climate Change - The Earth's Changing Climate
Marine species affected by climate change include plankton - which forms the basis of marine food chains - corals, fish, polar bears, walruses, seals, sea lions, penguins, and seabirds. The Intergovernmental Panel on Climate Change predicts a further rise of between 1.4°C and 5.8°C by the end of the century. Climate change could therefore well be the knock-out punch for many species which are already under stress from overfishing and habitat loss.
Impacts of climate change on the marine environment
Earth Hour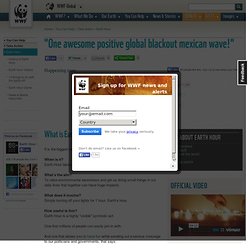 It is the biggest environmental awareness campaign ever seen! When is it? Earth Hour takes place once every year. On the last Saturday of March. What's the aim? To raise environmental awareness and get us doing small things in our daily lives that together can have huge impacts.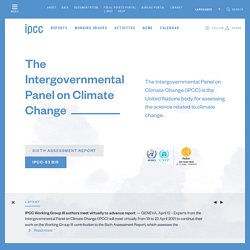 Climate Change 2013: The Physical Science Basis The Summary for Policymakers of the Working Group I contribution to the Fifth Assessment Report was approved, and the full report accepted, by the IPCC on 27 September 2013. The finalized version of the Summary for Policymakers was published on 11 November 2013 and is available for download below. For more on how the Working Group I report was prepared click here. Climate Change 2014: Impacts, Adaptation and Vulnerability