Non-traditional Medicine
Ayurveda
Overview What is Ayurveda? Considered by many scholars to be the oldest healing science, Ayurveda is a holistic approach to health that is designed to help people live long, healthy, and well balanced lives. The term Ayurveda is taken from the Sanskrit words ayus, meaning life or lifespan, and veda, meaning knowledge.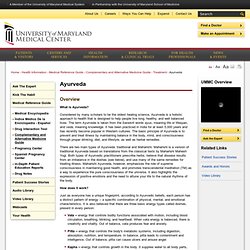 Return to ITM Online Perimenopausal Brain Fog Acupuncture and Herbs to Stimulate Brain Activity by Subhuti Dharmananda, Ph.D., Director, Institute for Traditional Medicine, Portland, Oregon In a recent report in the Journal of Traditional Chinese Medicine (5), an acupuncture protocol was described for treatment of menopausal syndrome that focused on attempting to improve mental activities. The treatment was claimed to have a notable beneficial effect and also to alter the levels of key menopause-related hormones: E2 (estradiol), FSH (follicle stimulating hormone), and LH (luteinizing hormone).
Perimenopausal Brain Fog: Acupuncture and Herbs to Stimulate Brain Activity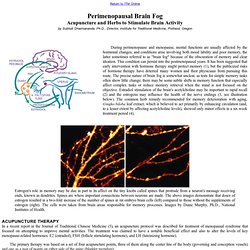 Welcome The American Academy of Medical Acupuncture (AAMA) is the professional society of physicians (MDs and DOs) in North America who have incorporated acupuncture into their traditional medical practice. The AAMA was founded in 1987 by a group of physicians who were graduates of the "Medical Acupuncture for Physicians" training programs sponsored by University Extension, UCLA School of Medicine.
American Academy of Medical Acupuncture Homepage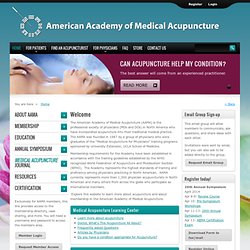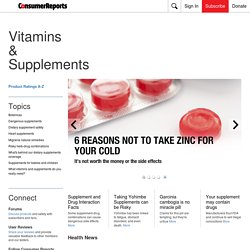 Don't take vitamin E or selenium pills to prevent prostate cancer If you're tempted to take vitamin E or selenium pills to help prevent prostate cancer, a new study should make you think twice. It found that high doses of those supplements may increase the risk... Don't reach for the butter and bacon just yet In mid-March lots of us started hoping we could, finally, toss caution to the wind and chow down on juicy steaks, buttery croissants, and crispy fried chicken. That's because a study in the ...
Natural Health - Consumer Reports Health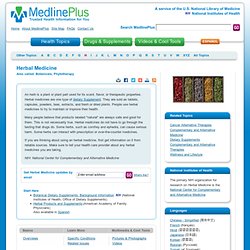 Herbal Medicine
An herb is a plant or plant part used for its scent, flavor, or therapeutic properties. Herbal medicines are one type of dietary Supplement. They are sold as tablets, capsules, powders, teas, extracts, and fresh or dried plants. People use herbal medicines to try to maintain or improve their health. Many people believe that products labeled "natural" are always safe and good for them. This is not necessarily true.
American Association of Naturopathic Physicians