Dessert
Tiramisu Cupcakes
It's always wonderful when a recipe takes me by surprise, and boy, did this one take my by surprise. Sure, tiramisu cupcakes sound pretty good, but there are plenty of other flavors on my list to try that make my tummy rumble. Most of the time when browsing through the list, I sort of glaze over this one and think, "They'll be fine. Maybe later…" No longer. These cupcakes are superb .
Tiramisu Cupcakes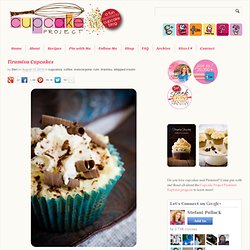 Tiramisu cupcakes, because they are served cold, are a refreshing way to beat the end of summer heat.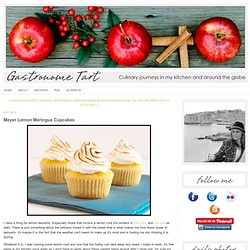 Meyer Lemon Meringue Cupcakes - Gastronome Tart
I have a thing for lemon desserts.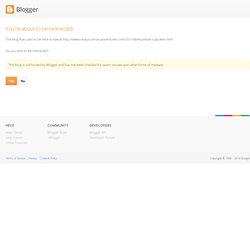 Mudslide Cupcakes
I'm not the kind of person who freaks out when a weather system approaches. You won't find me at the grocery store grabbing milk and bread at the first report of a blizzard in January. Now butter and sugar? That's an entirely different story - how else am I going to spend the long snowy days if not in my kitchen working on baking projects?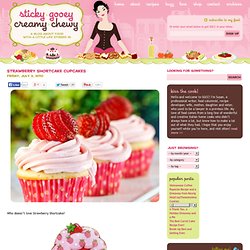 Who doesn't love Strawberry Shortcake?
Strawberry Shortcake Cupcakes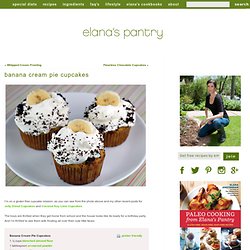 Banana Cream Pie Cupcakes - Dairy Free Cupcake Recipe
I'm on a gluten free cupcake mission, as you can see from the photo above and my other recent posts for Jelly Donut Cupcakes and Coconut Key Lime Cupcakes . The boys are thrilled when they get home from school and the house looks like its ready for a birthday party. And I'm thrilled to see them with frosting all over their cute little faces.
Key Lime Cupcakes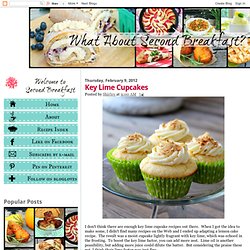 I don't think there are enough key lime cupcake recipes out there.
Fluffy Lime Cupcakes with Lime Whipped Cream « The Culinary Chronicles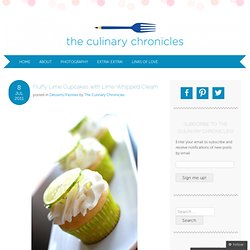 Ever since I picked up these super cute lime green-polka dot cupcake liners, I've been wanting to make some lime cupcakes. Something light, fluffy, and fragrant. From the combination of cake flour and egg whites, these cuppies fit the bill perfectly.
Posted on Saturday, 12th March 2011 by Grace Massa Langlois
Chocolate Cupcakes, Chocolate Cupcakes Recipe, Vanilla Frosting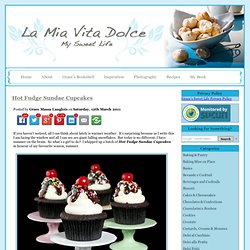 Posted on Friday, 24th June 2011 by Grace Massa Langlois I love my Italian Pastries and I love Gourmet Cupcakes (who doesn't?)! I decided to take the flavours and textures that I love from two of my favourite desserts, Cannoli Siciliani and Cupcakes and roll them into one amazing gourmet Cannoli Cupcake .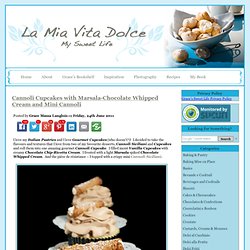 Gourmet Cupcakes-Vanilla Cupcakes-Cannoli Recipe-Chocolate Whipped Cream
Val loves cupcakes, and Mani loves cinnamon. We went all Voltron with our kitchen powers yesterday to combine two of our food favorites.
Bananas Foster Cupcakes
Cupcake Camp New Haven has come and gone and I'm so happy to have participated! It was a nerve-wracking couple of weeks leading up to the event for a couple of reasons.
Caramel Pumpkin Pie Cupcakes
After a long hiatus, this blog is finally back in action. During the past few months of this break I've been able to concentrate on school and clean up my diet.
Pumpkin Cupcakes with Cinnamon Cream Cheese Frosting and Streusel
Hi guys, as it so happens I was silly enough to somehow manage to delete my blog this afternoon. I lost everything
Pumpkin and Brown Butter Cupcakes with Cinnamon Buttercream | Girl Meets Sugar
Have you caught your apple cobbler trying to snuggle up to the pumpkin pie on your holiday table?
Apple Cobbler Cupcakes with Pumpkin Pie Frosting
Apple Spice Cupcakes with Toffee Italian Buttercream « The Moonlit Kitchen
S'mores Cupcakes
S'mores Cupcakes | Stuff Your Face
S'mores Cupcakes
Creme Brulee Cupcakes