Dessert
Tiramisu Cupcakes. Tiramisu cupcakes, because they are served cold, are a refreshing way to beat the end of summer heat.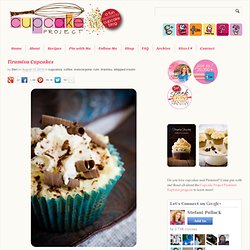 Making tiramisu cupcakes is not an original idea; many cupcake bloggers have made cupcake versions of tiramisu. The common way of making tiramisu cupcakes is to start with a basic yellow or white cupcake recipe, flavor it with some rum and coffee, and top it with mascarpone, whipped cream, and cocoa powder. While I would never turn down tiramisu cupcakes made that way, they miss out on what is to me the key feature of tiramisu – the topping to cake ratio.
Tiramisu has very little cake (ladyfingers) and LOTS of mascarpone and whipped cream topping. Meyer Lemon Meringue Cupcakes - Gastronome Tart. I have a thing for lemon desserts.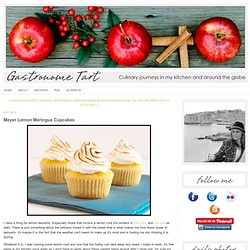 Especially those that involve a lemon curd (As evident in this post, and this one as well). There is just something about the tartness mixed in with the sweet that is what makes me love these types of desserts. Or maybe it is the fact that the weather can't seem to make up it's mind and is fooling me into thinking it is Spring. Whatever it is, I was craving some lemon curd and now that the hubby can take away any treats I make to work, it's free game in my kitchen once again as I don't have to worry about these sweets being around after I taste one. Mudslide Cupcakes. Strawberry Shortcake Cupcakes. Who doesn't love Strawberry Shortcake?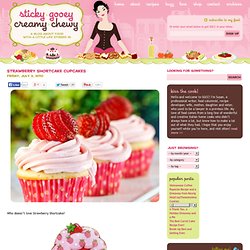 No, not that Strawberry Shortcake. Although, she is awfully cute! I'm talking about this Strawberry Shortcake. Banana Cream Pie Cupcakes - Dairy Free Cupcake Recipe. I'm on a gluten free cupcake mission, as you can see from the photo above and my other recent posts for Jelly Donut Cupcakes and Coconut Key Lime Cupcakes.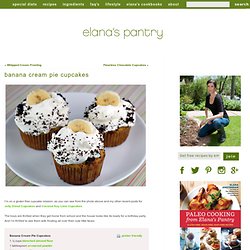 The boys are thrilled when they get home from school and the house looks like its ready for a birthday party. And I'm thrilled to see them with frosting all over their cute little faces. Key Lime Cupcakes. I don't think there are enough key lime cupcake recipes out there.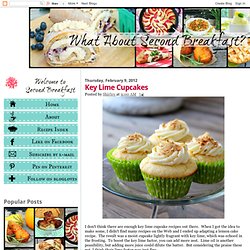 When I got the idea to make some, I didn't find many recipes on the Web and I ended up adapting a lemon cake recipe. The result was a moist cupcake lightly fragrant with key lime, which was echoed in the frosting. To boost the key lime factor, you can add more zest. Lime oil is another possibility, but adding more juice could dilute the batter. Fluffy Lime Cupcakes with Lime Whipped Cream « The Culinary Chronicles. Ever since I picked up these super cute lime green-polka dot cupcake liners, I've been wanting to make some lime cupcakes.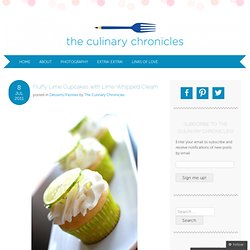 Something light, fluffy, and fragrant. From the combination of cake flour and egg whites, these cuppies fit the bill perfectly. Chocolate Cupcakes, Chocolate Cupcakes Recipe, Vanilla Frosting. Posted by Grace Massa Langlois on Saturday, 12th March 2011 If you haven't noticed, all I can think about lately is warmer weather.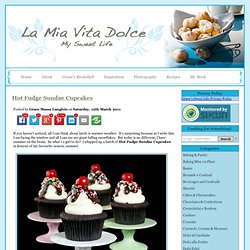 It's surprising because as I write this I am facing the window and all I can see are giant falling snowflakes. But today is no different; I have summer on the brain. Gourmet Cupcakes-Vanilla Cupcakes-Cannoli Recipe-Chocolate Whipped Cream. Posted by Grace Massa Langlois on Friday, 24th June 2011 I love my Italian Pastries and I love Gourmet Cupcakes (who doesn't?)!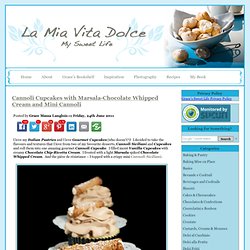 I decided to take the flavours and textures that I love from two of my favourite desserts, Cannoli Siciliani and Cupcakes and roll them into one amazing gourmet Cannoli Cupcake. Bananas Foster Cupcakes. Caramel Pumpkin Pie Cupcakes. Cupcake Camp New Haven has come and gone and I'm so happy to have participated!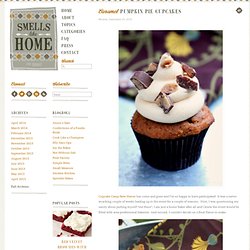 It was a nerve-wracking couple of weeks leading up to the event for a couple of reasons. First, I was questioning my sanity about putting myself "out there"; I am just a home baker after all and I knew the event would be filled with area professional bakeries. And second, I couldn't decide on a final flavor to make. But once I had that final flavor chosen, made, and tasted, all of my worries were washed away in a sea of caramel frosting.
Pumpkin Cupcakes with Cinnamon Cream Cheese Frosting and Streusel. After a long hiatus, this blog is finally back in action.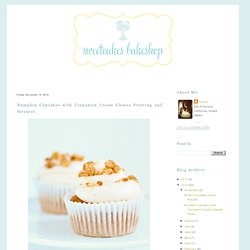 During the past few months of this break I've been able to concentrate on school and clean up my diet. Perhaps a greater influence on my blogging than my academic schedule has been my attempt to overcome my dependency on sugary sweets. Today I am very happy to say that one of these bad boys is the first homemade treat that I've had in months. And as delicious as it was, there was something different. The way I felt when I ate it was different...less ravenous. Pumpkin and Brown Butter Cupcakes with Cinnamon Buttercream | Girl Meets Sugar. Hi guys, as it so happens I was silly enough to somehow manage to delete my blog this afternoon.
I lost everything Luckily I had a backup file from when I moved hosts but it means I lost all my posts since then. I wanted to just re-post my pumpkin and brown butter cupcakes because they were really just that amazing. The recipe I used was based on this recipe. Enjoy! Apple Cobbler Cupcakes with Pumpkin Pie Frosting. Have you caught your apple cobbler trying to snuggle up to the pumpkin pie on your holiday table? I decided to play matchmaker and bring these two lovebirds together – and, let me tell you, it was a match made in heaven! Take gingery lemon apple cobbler cupcakes loaded with hunks of tart apples and blanket them with a thick coat of pumpkin pie frosting to watch the sparks fly. Is that your tummy rumbling with desire, or is it the sound of little sweet nothings whispered between the cake and frosting? Apple Spice Cupcakes with Toffee Italian Buttercream « The Moonlit Kitchen. Recently I was watching the first season of Masterchef US, the Gordon Ramsey cooking competition for home cooks.
The episode I was watching asked the contestants to make a cupcake (without a recipe) in 45 minutes. I had the crazy idea of testing myself to see how I would fare, so I stopped the show, set the timer and went to work. Caramel Apple Pie Cupcakes « The Craving Chronicles. It seems like once the weather cools down everyone wants to jump right into pumpkin season. Don't get me wrong, I love pumpkin as much as anyone else, but to me September is apple season.
I was thinking about how often apples get overshadowed by pumpkin a few weeks ago when my husband asked me if I wanted to attend a dinner party with some of his coworkers. S'mores Cupcakes. S'mores Cupcakes | Stuff Your Face. S'mores Cupcakes. Creme Brulee Cupcakes.
---