Candy
Chews. Bars. Homemade Chocolate Candy Recipes. Triple-Chocolate Cake Balls Count them with us: cocoa powder, chocolate graham crackers, and semisweet chocolate pieces.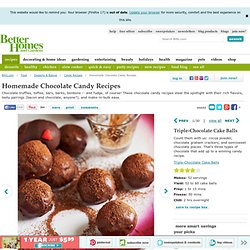 That's three types of chocolate that add up to a winning candy recipe. Makes: 52 servings Yield: 52 to 60 cake balls Prep: 1 hr 15 mins Freeze: 50 mins Chill: 2 hrs overnight Toffee-Butter Crunch A semisweet chocolate spread and toasted nuts make this buttery homemade toffee irresistible.
Copycat recipes
All types / Lists. Truffles. Bark / Brittle. Fudge. What goes into making chocolate bowls. Leave it up to me to mess up every recipe in the world... but on the flipside, by experiencing everything that goes wrong, I end up learning the most.I had seen these bowls from Stephanie's Kitchen, and decided it was a fantastic idea for my food independent study. ingredients: chocolate, and balloons!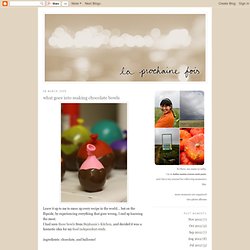 First, a giant bar of chocolate all the way from taiwan! And it's -special- grade, whatever that means.
---