Occupy Wall Street
The Charging Bull Occupied New York City 03/21/2012. As Occupy Camps Close, What's Next For Movement? Hide caption Occupy Wall Street protesters regroup in Foley Square after New York City police in riot gear removed the protesters from Zuccotti Park early Tuesday.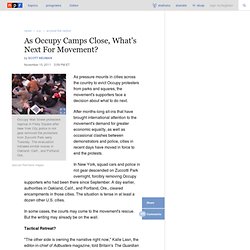 The evacuation followed similar moves in Oakland, Calif., and Portland, Ore. Spencer Platt/Getty Images Occupy Wall Street protesters regroup in Foley Square after New York City police in riot gear removed the protesters from Zuccotti Park early Tuesday. Occupy May Seem To Be Receding, But Look Closer. Hide captionOccupy Wall Street protesters shout during a "Shut Down the Corporations" demonstration in New York on Wednesday.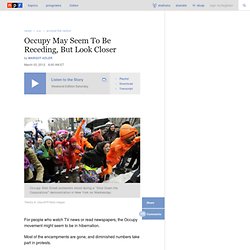 Timothy A. Clary/AFP/Getty Images Occupy Wall Street protesters shout during a "Shut Down the Corporations" demonstration in New York on Wednesday. For people who watch TV news or read newspapers, the Occupy movement might seem to be in hibernation. Defying Camping Ban, Occupy D.C. Protesters Remain In Place : The Two-Way. Hide captionOccupy D.C. protesters shout slogans after erecting a tent over the statue of Civil War Maj.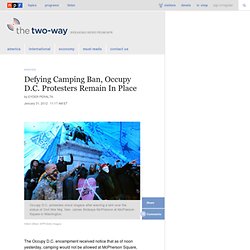 Gen. James Birdseye McPherson at McPherson Square in Washington. KAren Bleier /AFP/Getty Images. Ben And Jerry Raise Dough For Occupy Movement. Ben Cohen and Jerry Greenfield, co-founders of Ben & Jerry's ice cream, are part of a group of business leaders trying to raise money for Occupy Wall Street to help it regain its earlier momentum.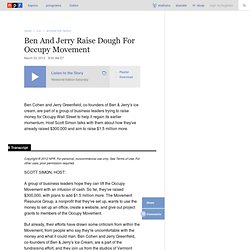 Host Scott Simon talks with them about how they've already raised $300,000 and aim to raise $1.5 million more. Copyright © 2012 NPR. The 99% Spring. The 'People's Caucus' To Protest Iowa Voting. Occupy Wall Street-style protesters in Des Moines, Iowa, are making plans to camp out at the headquarters of presidential candidates and disrupt campaign events leading up to the Iowa caucuses.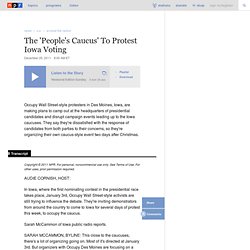 They say they're dissatisfied with the response of candidates from both parties to their concerns, so they're organizing their own caucus-style event two days after Christmas. Copyright © 2011 NPR. For personal, noncommercial use only. See Terms of Use. Occupy LA deadline comes, many say they won't go. LOS ANGELES (AP) — Hundreds of Occupy Los Angeles protesters showed no sign they planned to move Sunday ahead of a city-imposed midnight deadline to abandon their encampment, saying they would instead hold an "eviction block party.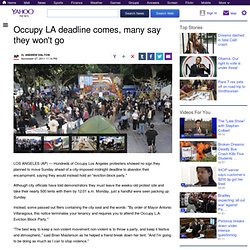 " Although city officials have told demonstrators they must leave the weeks-old protest site and take their nearly 500 tents with them by 12:01 a.m. Monday, just a handful were seen packing up Sunday. Instead, some passed out fliers containing the city seal and the words: "By order of Mayor Antonio Villaraigosa, this notice terminates your tenancy and requires you to attend the Occupy L.A. Eviction Block Party. " LA protesters defy eviction efforts, go to court. LOS ANGELES (AP) — Occupy Wall Street protesters who defied a deadline to remove their weeks-old encampment on the Los Angeles City Hall lawn stood their ground Tuesday as they faced uncertainty over when or if police would push them out of the park — and if an eviction could happen without the kind of violence that has engulfed the removal of protest sites in other cities.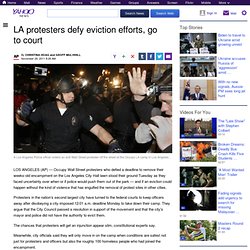 Protesters in the nation's second largest city have turned to the federal courts to keep officers away after disobeying a city-imposed 12:01 a.m. deadline Monday to take down their camp. They argue that the City Council passed a resolution in support of the movement and that the city's mayor and police did not have the authority to evict them. The chances that protesters will get an injunction appear slim, constitutional experts say. Beta. Protesters Return, Camping Items Banned. Wall Street Protesters Lose Bid to Return to New York City Park With Tents. "Occupy Wall Street" protesters lost a bid to overturn their eviction and the removal of tents and structures from a lower Manhattan park where they had been demonstrating 24 hours a day for eight weeks.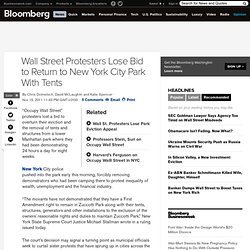 New York City police pushed into the park early this morning, forcibly removing demonstrators who had been camping there to protest inequality of wealth, unemployment and the financial industry. "The movants have not demonstrated that they have a First Amendment right to remain in Zuccotti Park along with their tents, structures, generators and other installations to the exclusion of the owners' reasonable rights and duties to maintain Zuccotti Park," New York State Supreme Court Justice Michael Stallman wrote in a ruling issued today. The court's decision may signal a turning point as municipal officials seek to curtail sister protests that have sprung up in cities across the country including Oakland, California, Portland, Oregon and Salt Lake City. Police, Occupy protesters head for Ore. showdown. PORTLAND, Ore.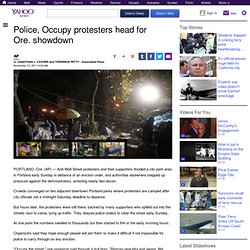 (AP) — Anti-Wall Street protesters and their supporters flooded a city park area in Portland early Sunday in defiance of an eviction order, and authorities elsewhere stepped up pressure against the demonstrators, arresting nearly two dozen. Crowds converged on two adjacent downtown Portland parks where protesters are camped after city officials set a midnight Saturday deadline to disperse. But hours later, the protesters were still there, backed by many supporters who spilled out into the streets next to camp, tying up traffic. They obeyed police orders to clear the street early Sunday. Zuccotti Park 'Unoccupied And Quiet' As Day Begins : The Two-Way. Hide captionA solitary Occupy Wall Street protester held a sign outside a nearly empty Zuccotti Park in Manhattan earlier today (Nov. 16, 2011).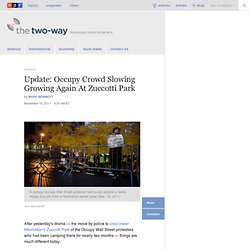 John Minchillo/AP A solitary Occupy Wall Street protester held a sign outside a nearly empty Zuccotti Park in Manhattan earlier today (Nov. 16, 2011). After yesterday's drama — the move by police to clear lower Manhattan's Zuccotti Park of the Occupy Wall Street protesters who had been camping there for nearly two months — things are much different today. "As a steady drizzle began early Wednesday morning, only a few dozen protesters remained in Zuccotti Park," The New York Times' City Room blog says.
Police Shut Down Occupy Burlington Encampment After Shooting : The Two-Way. Police announced today that the continued occupation of City Hall Park in Burlington, Vt. was a risk to public safety and it could not continue. Vermont Public Radio reports on what Police Chief Michael Schirling had to say: "The overwhelming majority of people in this movement are peaceful and they've have tried very hard with the city to achieve balance and to ensure that they're doing their best to create a safe environment. It's clear that it's not completely possible to do that, we believe, with the existence of tents. And simultaneously we saw last night for the first time a few people who, we believe, were trying to incite altercations, incite the crowd to do things or to provoke a response from law enforcement.
" Deaths at Occupy camps bring pressure for shutdown. OAKLAND, Calif. (AP) — Oakland officials have twice issued eviction notices to an anti-Wall Street encampment and officials elsewhere urged an end to similar gatherings as pressures against Occupy protest sites mounted in the wake of three deaths in different cities, including two by gunfire. For the second time in as many days, Oakland city officials warned protesters on Saturday that they do not have the right to camp in the plaza overnight and face immediate arrest and the removal of their tents, stoves, sleeping bags and other belongings. Police and a city official did not respond to requests for comment on whether police were preparing to forcibly clear the camp. Crackdowns reach epicenter of Wall Street protests.
NEW YORK (AP) — The encampment is gone, but the movement lives on. What nobody knows is just how long it can survive without a literal place to call home. For Occupy Wall Street, Zuccotti Park was a rallying cry, a symbol of defiance. 'Democracy Now!': Inside the Zuccotti Park Raid. 'Democracy Now!' : Inside the Zuccotti Park Raid Posted on Nov 15, 2011 Around 1 a.m. on Tuesday, New York City police forces rolled up to Occupy Wall Street's Zuccotti Park encampment and started pushing protesters out and removing their belongings via dump trucks. "Democracy Now!" Sent a camera crew to the scene and caught the confrontation on film as eyewitnesses gave their accounts of riot gear, pepper spray and arrests. Police Oust Occupy Wall Street Protesters at Zuccotti Park.
Report: Many Large Corporations Are Paying No Income Taxes : The Two-Way. As the U.S. faces a presidential election in the middle of tough economic times, taxes have been firmly in the spotlight. A study (pdf) released today is bound to add more fuel to the fire. Citizens for Tax Justice, a left-leaning research organization in Washington, D.C., sifted through the financial reports of 280 Fortune 500 companies and found that 78 of them paid no federal income tax in at least one of the past three years. Thirty companies, the study found, paid a negative tax rate over the three-year period. Why The Haves Have So Much.
Hungry for Jobs and for Change, Scientists Join the Occupy Movement | Guest Blog. MoveOn.Org. The State-Corporate Complex: A Threat to Freedom and Survival. Noam Chomsky at Occupy Boston Saturday. Tom the Dancing Bug Comic Strip, November 04. Occupy Unemployment. Double Take 'Toons: Unoccupied Wall Street. Mr. Fish: Scissors - Mr. Fish's Cartoons. Double Take 'Toons: Streets Swept? ♪♫•*¨☀★♫♪ the Dirty Fucking Hippies, WERE RIGHT! ♪♫•*¨☀★♫♪ The George Carlin Clip Every American Needs To See. 651_65528_do-ho-suh.jpg (JPEG Image, 599x480 pixels) Occupy This! The 'Last Place Aversion' Paradox. Globalrevolution. Who are the 99 percent? Are You Among The '99 Percent?' : The Two-Way. William Pfaff: American Government's Indifference to Popular Protest. How Unequal We Are: The Top 5 Facts You Should Know About The Wealthiest One Percent Of Americans.
NYC General Assembly | The Official Website of the GA at #OccupyWallStreet. Declaration of the Occupation of New York City | NYC General Assembly. Why #OccupyWallStreet? Four Reasons from DC Douglas. Why #OccupyWallStreet? « D.C. DOUGLAS BLOG: Voice-Over | Film | Television. How Occupy Wall Street could succeed. Occupy Wall Street | NYC Protest for American Revolution. We Are the 99 Percent. The Santa Barbara Independent Why Occupy Los Angeles Should Occupy Your Heart. Transport Workers Union Votes Unanimously to Support Occupy Wall Street. As Unions, Students Join Occupy Wall Street, Are We Witnessing Growth of a New Movement?
Protesters try to close B of A accounts. B of A and Police say: No can do.
---