Climate Change
Climate Change Will Worsen Extreme Weather. Energy & Sustainability :: Climatewire :: November 18, 2011 :: :: Email :: Print Changes in extreme weather will require governments to change how they cope with natural disasters, a new report from the U.N.
Intergovernmental Panel on Climate Change warns By Lauren Morello. Adding to the Consensus on Global Warming. On October 20th Nature News reported on a new analysis of land temperatures by an independent group.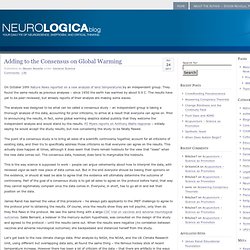 They found the same results as previous analyses – since 1950 the earth has warmed by about 0.9 C. The results have yet to be peer-reviewed, but already reports of their analysis are making some waves. The analysis was designed to be what can be called a consensus study – an independent group is taking a thorough analysis of the data, accounting for prior criticisms, to arrive at a result that everyone can agree on. * National Climatic Data Center (NCDC) * Arguments from Global Warming Skeptics and what the science really says.
Term Lookup Enter a term in the search box to find its definition. Settings Use the controls in the far right panel to increase or decrease the number of terms automatically displayed (or to completely turn that feature off). All IPCC definitions taken from Climate Change 2007: The Physical Science Basis. Scientific American: Climatewire. DeSmogBlog | Clearing the PR Pollution that Clouds Climate Science. Skeptical Research Effort Confirms Global Warming, Again.
The Earth's surface is warming, after all, says a team of researchers who sought to investigate claims that flawed data and methods had skewed existing analyses of global temperature trends.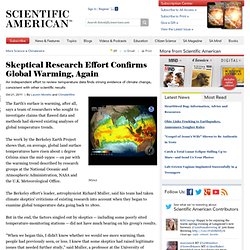 The work by the Berkeley Earth Project shows that, on average, global land surface temperatures have risen about 1 degree Celsius since the mid-1950s -- on par with the warming trend described by research groups at the National Oceanic and Atmospheric Administration, NASA and the U.K. Meteorological Office.
---