Appetizers & Snacks
Oven-fried Potato Chips Recipe. Use a mandoline if you have one to help cut the potatoes in thin, even slices.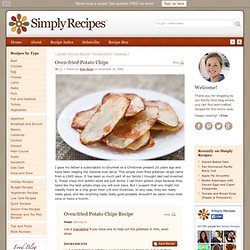 Method Pat the potatoes dry between paper towels and arrange them in one layer in 2 buttered cookie sheets; if you have a non-stick cooking spray, this works fine for greasing the pans. Brush the potatoes with the butter, bake them in a preheated 500°F oven for 15 to 20 minutes, or until the edges are golden brown. My Amish Friend's Caramel Corn Recipe. Make "Real Food" Versions of These Popular Snack Foods - Planet Green. How to make potstickers - from scratch! 2 lbs of ground pork* 1 bunch of Chinese chives** 1 bunch of green onions 1 pieces of ginger 1 egg (optional) some uncooked shrimp (optional) 3 packs of dumpling wrappers*** some all-purpose flour soy sauce sesame oil rice vinegar garlic (optional) chili paste (optional) *The preferred of pork for this recipe is pork butt, which has a higher fat content than most other cuts of pork.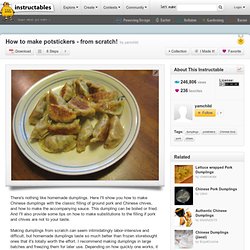 Leaner cuts can be substituted, but the filling will taste more dry. **Also known as garlic chives or Chinese leeks. How to Make Delicious, Healthy Homemade Potato Chips With a Microwave!
---